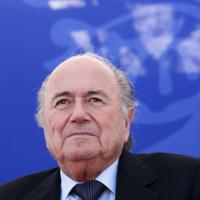 Joseph Sepp Blatter Net Worth
| | |
| --- | --- |
| Net Worth: | $40 Million |
| Salary: | $6 Million |
| Date of Birth: | Mar 10, 1936 (86 years old) |
| Place of Birth: | Visp |
| Gender: | Male |
| Nationality: | Switzerland |
What is Sepp Blatter's Net Worth and Salary?
Joseph "Sepp" Blatter is a retired Swiss professional football executive who has a net worth of $40 million. He is best known for serving as the President of FIFA from 1998 to 2015, a tenure that ended in a corruption scandal and a six-year ban from FIFA. Starting his career in business and public relations, Blatter first joined the leadership of FIFA after becoming general secretary in 1981. During his time as president, Sepp increased the financial performance of the FIFA World Cup significantly.
It has been alleged that Blatter was involved in crimes such as bribery and money laundering. In addition, Sepp was accused of turning the bidding process for the FIFA World Cup into an unfair practice. Because of the incredible revenue that nations can earn from hosting the World Cup, many were desperate to win the bid by any means process. It is alleged that Blatter recognized this desperation and transformed the entire bidding process into a corrupt farce.
Salary and Compensation
At the peak of his time working with FIFA, Sepp Blatter's annual salary was $6 million. He also had the ability to earn generous bonuses. For example, after the 2014 World Cup in Brazil he reportedly earned a $12 million bonus. He also was allowed to live in a luxurious Zurich apartment at FIFA's expense.
Early Life
Josef Blatter was born on March 10th of 1936 in Visp, Valais, Switzerland. After studying in the small city of Saint Maurice, Blatter attended the University of Lausanne. During his university years, Sepp studied business and economics, earning degrees in both subjects before embarking on a business career.
Career
Although Blatter would later become one of the most important sporting figures in the world, he started his career with a wide range of business positions. During this early period, Sepp became experienced in fields such as public relations, tourism, and more. His first foray into the sporting world began not with soccer, but ice hockey. He once held the position of general secretary of the Swiss Ice Hockey Federation. In addition, he spent his early career as Director of Sports Timing and Relations for Longines S.A, a Swiss luxury watchmaker. In 1972 and 1976, he also helped organize the Olympic Games.
Sepp began his journey with FIFA in 1975, acting as technical director for six years. In 1981, he moved up the ranks and became general secretary. 17 years later, Blatter was elected as FIFA president for the first time. From that point onward, Sepp reigned over FIFA virtually unopposed by any other presidential candidate. Despite this, he was not always a popular figure within the organization, and by the end of his tenure, only a relatively small portion of FIFA members actually supported him.
In fact, Blatter's presidency was controversial from the very beginning. In 1998, it was alleged that Sepp's election had been the result of bribery, backroom dealings, and financial irregularities. Two high-ranking FIFA members later claimed that they had been offered $100,000 to vote for Blatter.
In 2011, Blatter ran for a fourth consecutive term as FIFA president. During this period, Sepp was being investigated by the FIFA ethics committee for allegations of bribery. After a number of other potential candidates dropped out of the race, Blatter ran unopposed in 2011 and obviously won. He was immediately criticized for not postponing the elections so that new candidates could join the race. In response, Blatter stated that he would not run for a fifth term.
In 2015, Sepp ran for the FIFA presidency once again, pursuing a fifth consecutive term. This time, he ran against Prince Ali bin Hussein, although neither candidate received enough votes to win the election. Prince Ali then withdrew, making Blatter the winner by default. Just days later, Sepp was forced to resign amidst heated pressure related to a corruption scandal that had been brewing for years. He was later forced to resign from FIFA completely, and in 2016 he was banned for eight years from the organization (although this was later reduced to six years).
Controversy
Aside from Blatter's corruption allegations, he was also a controversial figure for other reasons during his time as FIFA president. Sepp's approach to racism became a notable source of ire. Over the course of his career, he has claimed that Latin American countries celebrate extramarital affairs and that solving racism is as simple as organizing a handshake between two players. He also interrupted a one-minute moment of silence for the death of Nelson Mandela after 11 seconds.
During the 2006 World Cup, a match between Portugal and Holland completely fell into disarray in what has since been dubbed the "Battle of Nuremberg." The name is well-deserved since the game (which involved 16 yellow cards and 4 red cards) was less like a soccer match and more like organized violence. Blatter controversially criticized the referee for losing control of the match and removed him from further officiating.
Blatter has also been criticized for his stance on foreign players on football clubs. He proposed a plan that would limit the number of foreign players on any club to five. The remaining six players would have to be natives of that club's country. He believed that this would help national teams become stronger.
Sepp was also firmly against any kind of video replay technology or goal-line technology throughout his tenure. This led to serious refereeing errors that were seen by the entire world. Goals that had clearly crossed the line were disallowed, and players who were completely offside were allowed to score. In response to mounting pressure, Blatter became more open to these technological advances towards the end of his presidency.
Financial Issues
In 2002, Blatter was accused of financial mismanagement, and it was revealed that Sepp's management had caused losses of over $100 million. Unfortunately, the Swiss authorities cleared Sepp of any wrongdoing after the case was handed over. This case was revisited in 2013 when FIFA's ethics committee investigated illegal payments made to a marketing partner called ISL. Once again, Sepp was cleared of any wrongdoing, but many of his associates in FIFA resigned in disgrace. In 2015, Swiss authorities investigated Blatter for making illicit payments to Michel Platini, who was then the president of UEFA. Both men were eventually banned from FIFA.
During his time as president, rumors were constantly spreading about Blatter's alleged corruption. It was widely believed that the FIFA president accepted bribes from nations who wanted to host the World Cup, and the most notable example of this was probably Qatar's successful bid to host the 2022 World Cup.
Relationships
After marrying Liliane Biner, Blatter welcomed his first child into the world. The couple divorced not long after having their child. In 1981, Sepp married Barbara Kaser. The marriage ended when Kaser passed away after ten years. After dating a Polish friend of his daughter, Blatter married his third wife, Graziella Bianca in 2002. The couple divorced in 2004.
All net worths are calculated using data drawn from public sources. When provided, we also incorporate private tips and feedback received from the celebrities or their representatives. While we work diligently to ensure that our numbers are as accurate as possible, unless otherwise indicated they are only estimates. We welcome all corrections and feedback using the button below.