Dwight Gooden Net Worth
Dwight Gooden net worth: Dwight Gooden is a retired professional baseball player who has a net worth of $300 thousand dollars. Dwight Eugene Gooden was born on November 16, 1964 in Tampa, Florida. Nicknamed "Dr. K" and, more commonly and affectionately "Doc", Gooden is a former professional baseball pitcher who played for 16 seasons in Major League Baseball (MLB).
Dwight "Doc" Gooden carried a strong reputation for being one of the topflight pitchers in baseball during his decorated career peak in the middle and late 1980s. Unfortunately, Gooden's life off the field has been blemished with a handful of controversies and financial problems. However, during his career, he earned the inflation-adjusted equivalent of about $50 million (which was $36 million total in actual dollars earned during his actual career).
Early Life: Dwight Gooden was the youngest child of three. Born to Dan and Ella Gooden on November 16, 1964, in Tampa, Florida, Gooden was exposed to the game of baseball early. His father worked for the Cargill Corporation and made the time to coach youth baseball. Ella, his second wife, worked in a nursing home as well as a popular local pool hall. Dan and Dwight would spend countless hours talking baseball as well as practicing the ins and outs of the game in order to prepare Dwight for a professional career. Although Gooden described his childhood himself as somewhat idyllic, he was surrounded by substance abuse problems at home.
Pre-Professional Career: Dwight had a way of standing out on the diamond, and he would eventually become the standout pitcher for his Hillsborough High School team in Tampa. Dwight was even scouted early on by teams like the New York Mets, the Cincinnati Reds, as well as the Chicago Cubs. Dwight also received an extensive amount of scholarship offers from various colleges. In 1982, the Mets selected Gooden as the fifth overall pick in the MLB 1982 amateur draft — at the time, Dwight signed a deal worth $40,000 and was awarded a signing bonus in the amount of $85,000.
Just as it was with most younger prospects, Gooden would start out in the low minors in order to ease into the professional level and make a name for himself. In Dwight's case, at 17-years-old, he was assigned to Kingsport, playing in the Rookie-level Appalachian League. In one of his first two starts, Gooden earned 18 strikeouts in 13 innings. After this, he was promoted to Little Falls, playing in the Class-A New York-Penn League.
Called Up to the Big League: The most significant event that propelled Gooden's into "The Big League" occurred in 1984, and it was off the field. The New York Mets went 68-94 in 1983 and had a two-manager turnaround (George Bamberger and Frank Howard, respectively). They finished a meager sixth in the NL East.
Frank Cashen, the Mets' general manager at the time, put it on himself to rebuild the team. Cashen would end up putting the call-in for Gooden's call-up during the playoffs.
Professional Baseball Career: Gooden's MLB debut came in1984, when the then 19-year-old quickly developed a reputation as a burgeoning and intimidating pitcher — a pitcher with a 98 mile-per-hour fastball to boot, not to mention curveball with a significant amount of arch. Dwight's prowess on the mound earned him the nickname "Dr. K" — the "K" representing the scorecard symbol for a strikeout. This same year that Gooden burst on the MLB scene, the then 19-year-old earned his stripes in his first All-Star Game appearance. When Gooden took the mound during the fifth inning (July 10, 1984) he was the youngest player to ever make an appearance in an all-star game.
A year into his professional career, Gooden made one of his most impressive statistical achievements in baseball. That year he racked up 268 strikeouts, 24 wins, and a low 1.53 ERA (1985).
From this moment onward, Gooden became a popular MLB player in addition to a New York icon. Early on, there was already speculation about Gooden's chances of being inducted into the Baseball Hall of Fame, even despite his unprecedentedly young age.
Unfortunately, Doc experienced a few setbacks, even early in his career. Doc struggled with alcohol and cocaine abuse and those substance issues would last for many years for him. In December 1986, a routine traffic stop resulted in Gooden getting into a brawl that involved 22 officers. He eventually paid a $3 million settlement related to the case, which would be a less-than-auspicious omen for events to come.
Despite his legal issues, in 1986 Gooden put up a 17–6 record for his team. Gooden had 200 strikeouts, which put him at fifth in the National League. However, this was still more than one hundred strikeouts behind Mike Scott of the Houston Astros, who was the league leader of that year.
In 1992 Gooden recorded his first-ever losing season at 10–13. This was also the first time he had racked up 10 games in his loss column. The next season (1993) brought no signs of improvement or catharsis — Gooden finished 12–15 that year. During this same season, Sports Illustrated ran a cover story on Gooden which they chose to title, "From Phenom to Phantom."
In 2002, Gooden was arrested in Tampa, Florida for driving while intoxicated with a suspended license. He has been arrested several times since for a variety of charges, his last arrest recorded for driving while intoxicated, occurring on July 22, 2019 in Newark, New Jersey.
Financial Problems: Gooden earned $36 million during his career in Major League Baseball. His biggest contract was a three-year $15.45 million deal that he signed in 1991. His biggest one-year salary came during the 1993-1994 season when he earned $5.9 million from the Mets. As of 2020, Gooden's most valuable trading card has an estimated value of $15.53 (his 1984 Topps Traded #42 Dwight Gooden card).
By 2003, Gooden no longer had the means to support his family. As a result, he and his family were forced out of their $2 million Florida dream home. When he and his wife separated, Gooden was ordered to pay $13,600 per month in support despite his claim that this number far exceeded his actual personal income. At the time, his only source of income was a largely ceremonial $100,000 salary that was paid for him to be an assistant to Yankees owner George Steinbrenner.
Despite being a cautionary tale, Gooden has remained a pop culture figure — his name was used by The Mountain Goats (an American indie rock band) for their song titled "Doc Gooden" on their 2019 album "In League with Dragons". The lyrics of the song named after Doc Gooden were written by singer/songwriter John Darnielle and include detailed references to life as a baseball player.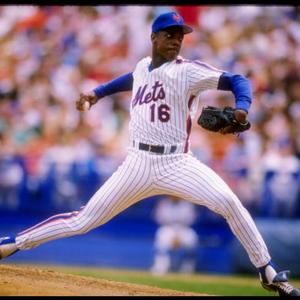 Dwight Gooden
| | |
| --- | --- |
| Net Worth: | $300 Thousand |
| Date of Birth: | Nov 16, 1964 (57 years old) |
| Gender: | Male |
| Height: | 6 ft 2 in (1.9 m) |
| Profession: | Baseball player |
| Nationality: | United States of America |
Dwight Gooden Earnings
Houston Astros (2000-01)

$500,000

Cleveland Indians (1999-00)

$2,637,500

Cleveland Indians (1998-99)

$2,787,500

New York Yankees (1997-98)

$2,000,000

New York Yankees (1996-97)

$950,000

New York Mets (1994-95)

$4,616,667

New York Mets (1993-94)

$5,916,667

New York Mets (1992-93)

$5,166,667

New York Mets (1991-92)

$2,466,667

New York Mets (1990-91)

$1,866,667

New York Mets (1989-90)

$2,416,667

New York Mets (1988-89)

$1,400,000

New York Mets (1987-88)

$1,500,000

New York Mets (1986-87)

$1,320,000

New York Mets (1985-86)

$450,000

New York Mets (1984-85)

$40,000
All net worths are calculated using data drawn from public sources. When provided, we also incorporate private tips and feedback received from the celebrities or their representatives. While we work diligently to ensure that our numbers are as accurate as possible, unless otherwise indicated they are only estimates. We welcome all corrections and feedback using the button below.