Colin Kaepernick Net Worth
What is Colin Kaepernick's net worth and Career Earnings?
Colin Kaepernick is an American football player and social activist who has a net worth of $20 million. During his six seasons in the NFL, between 2011 and 2016, Colin earned a bit more than $43 million in salary (before taxes and fees). His peak NFL salary was $14.3 million which came during the 2016 season. He is also a political and civil rights activist, best known for kneeling during the national anthem during NFL games in protest of police brutality and racial inequality in the United States.
Early Life
Colin Rand Kaepernick was born in Milwaukee, Wisconsin on November 3, 1987. His birth mother put him up for adoption and Colin became the third child of Rick and Teresa Kaepernick. The couple had two older children: son Kyle and daughter Devon. The Kaepernicks decided to adopt a boy after losing two other sons to heart defects. The Kaepernicks lived in Fond du Lac, Wisconsin until he was four when they moved to California. He was a 4.0 GPA student-athlete at John H. Pitman High School in Turlock, California. In high school he was primarily focused on baseball, earning several scholarship offers to play college baseball. However, he wanted to focus on football and was offered a spot at the University of Nevada. As a college football player, he was regularly ranked as one of the best college quarterbacks in the nation. He received numerous honors during his college football career and set multiple records. He was named the Western Athletic Conference (WAC) Offensive Player of the Year twice. Kaepernick was also the only player in NCAA Division I FBS history to amass 10,000 passing yards and 4,000 rushing yards in a career.
NFL Career
Colin was drafted by the Chicago Cubs in 2009, but turned down the MLB offer to continue playing football. He signed with the San Francisco 49ers in the second round of the 2011 NFL Draft and played as a backup quarterback until 2012. He excelled throughout the 2012 season, and ultimately led the 49ers to Super Bowl XLVII that same year. They lost to the Baltimore Ravens 31-34. In the 2013 season, Colin led the 49ers to the NFC Championship game where they lost to the Seattle Seahawks.
In the 49ers' third preseason game in 2016, Kaepernick chose to sit during the playing of the U.S. national anthem prior to the game, rather than stand as is customary. It was a protest against racial injustice, police brutality, and systematic oppression in the country. The following week, and for the remainder of the regular season, Kaepernick kneeled during the anthem. The protests received very passionate reactions for and against his protest. Kaepernick's taking of a knee became a media firestorm, which blew up in September 2017 after President Donald Trump said that NFL owners should "fire" players who protest during the national anthem.
Kaepernick became a free agent after that season. No team signed him. He remains unsigned as of this writing.
Record Contract
In June 2014, Colin and the 49ers reached a seven-year extension deal. The deal could have allowed Colin to earn as much as $126 million from the deal and $61 million in potential guarantees. The extension also came with a $12.3 million signing bonus and a $640,000 salary for the upcoming season. That $13 million was the only fully-guaranteed aspect of the contract. The $61 million in potential guaranteed money was only guaranteed if Colin suffered a career-ending injury. It was a record-setting contract at the time.
According to the structure of the contract, Colin's base salary went down $2 million each year he was not named to the first or second All-Pro team OR if the 49ers did not play in the Super Bowl in the previous season (with Colin taking at least 80% of the snaps). As such, his $12.4 million base salary at the beginning of the 2015 season was reduced to $10.4 million.
In March 2017, Kaepernick discovered that the 49ers were planning to cut him. He decided to opt-out of his contract in order to become a free agent. When it was all said and done, Colin earned $39 million from his record-setting $126 million contract.
NFL Lawsuit And Settlement
Colin filed a grievance against the NFL in 2017 alleging that the league and owners conspired to keep him from playing in the NFL in response to his decision to kneel during the National Anthem. The lawsuit was settled privately in February 2019 with an undisclosed payment. On February 18, 2019, several sports news outlets reported that the settlement amount might have been in the $60 – $80 million range. A month later it was revealed that the true settlement amount was more likely around $10 million.
Nike Contract
Colin signed his first Nike endorsement deal in 2011. Many believed that Nike did not renew their contract after Colin languished without a team after 2017. In 2018, Nike released an ad campaign on the 30th anniversary of the company's "Just Do It" campaign. The ad featured Kaepernick with the words "Believe in something. Even if it means sacrificing everything." As it turned out, Nike continued supporting Colin all along, eventually revealing him as a brand ambassador. According to Yahoo NFL reporter Charles Robinson, Nike is still paying Colin a contract that is on par with current star NFL athletes, millions per year that will include royalties on a Kaepernick-branded apparel line.
Personal Life
Kaepernick's family has had a pet African spurred tortoise named Sammy since he was 10 years old.
Kaepernick was baptized Methodist, confirmed Lutheran, and attended a Baptist church during his college years.
Kaepernick began following a vegan diet in late 2015.
Kaepernick reportedly started dating radio personality and television host Nessa Diab in July 2015, and officially went public about their relationship in February 2016.
Kaepernick and Nessa founded the Know Your Rights Camp, an organization that held free seminars to disadvantaged youths to teach them about self-empowerment, American history, and legal rights. In April 2020, the Know Your Rights Camp launched a relief fund for individuals impacted by the COVID-19 pandemic. Kaepernick donated $100,000 to the fund.
In February 2020, Kaepernick started Kaepernick Publishing. Kaepernick will publish a memoir through his publishing company and Audible.
Real Estate
In 2017, Kaepernick sold his San Jose, California home for $3.075 million. The two-story house features four bedrooms, five and a half bathrooms and nearly 4,600 square feet of living space. Amenities include a wall aquarium, a full bar, a pool, spa, and waterfall feature. Kaepernick bought the home in 2014 for $2.7 million and underwent a massive renovation.
Kaepernick purchased a two-bedroom luxury condo in New York City for $3.21 million in July 2016. The Tribeca apartment reportedly offers 24-hour concierge service, a swimming pool, a private health club, and a garage. The 1,733-square foot apartment was reportedly purchased by the same family trust that purchased Kaepernick's home in San Jose.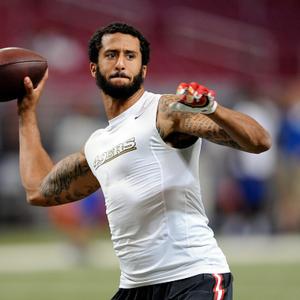 Colin Kaepernick
| | |
| --- | --- |
| Net Worth: | $20 Million |
| Salary: | $12.4 Million |
| Date of Birth: | Nov 3, 1987 (34 years old) |
| Gender: | Male |
| Height: | 6 ft 3 in (1.93 m) |
| Profession: | American football player |
| Nationality: | United States of America |
All net worths are calculated using data drawn from public sources. When provided, we also incorporate private tips and feedback received from the celebrities or their representatives. While we work diligently to ensure that our numbers are as accurate as possible, unless otherwise indicated they are only estimates. We welcome all corrections and feedback using the button below.