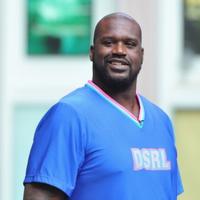 Shaquille O'Neal Net Worth
| | |
| --- | --- |
| Net Worth: | $400 Million |
| Salary: | $60 Million |
| Date of Birth: | Mar 6, 1972 (50 years old) |
| Place of Birth: | Newark |
| Gender: | Male |
| Height: | 7 ft 1 in (2.16 m) |
| Profession: | Basketball player, Actor, Rapper, Film Producer, Television producer, Real estate entrepreneur |
| Nationality: | United States of America |
What is Shaquille O'Neal's Net Worth?
Shaquille O'Neal is a retired American basketball player, entrepreneur, television host and product endorser. As of this writing, Shaquille O'Neal's net worth is $400 million. During his NBA career, Shaq earned $292 million in salary alone. He earned well over $200 million from endorsements during that same time period. Even though he has been retired for many years, Shaq still earns around $60 million per year from endorsements and various business endeavors to this day.
Key Facts
Earned $292 million in NBA salary
He earned $200 million from endorsements while playing in the NBA
Actually earns more money in retirement today
Typically earns around $60 million per year
Spent his first $1m NBA salary in 30 minutes
Early Life
Shaquille O'Neal was born on March 6th, 1972 in Newark, New Jersey to parents Lucille O'Neal and Joe Toney. His father was addicted to drugs and went to prison for drug possession when O'Neal was just a baby. His parents never married and his father left soon after Shaq was born, upon his release from prison. O'Neal was estranged from his father for decades. At the age of two, his mother married Phillip Harrison who was a sergeant in the U.S. Army. O'Neal was a part of the Boys and Girls Club of America while growing up and he credits the organization for helping to keep him off the streets. The family moved from Newark and moved around to Germany and Texas. While still in high school, Shaq started to gain attention for his basketball talent. In his senior year, he led the San Antonio's Robert G. Cole High School team to the state championship. O'Neal went on to Louisiana State University where he became a two-time SEC player of the year and a two-time All American. He also received the Adolph Rupp's Trophy for the NCAA men's basketball player of the year in 1991.
NBA Superstar
In 1992 O'Neal became the first overall pick for the Orlando Magic. A year later he was named the Rookie of the Year and voted an All Star-starter which had not been accomplished since Michael Jordan. In his second season, Shaq helped the Magic make their way to their first play-off series. The next year they made it to the finals, but lost to the Houston Rockets.
O'Neal was plagued by injury for a good deal of the 1995-96 season, though the Orlando Magic still finished the regular season with a winning record. In the playoffs that year, O'Neal and the Magic won the first two rounds but were ultimately defeated by Michael Jordan's Chicago Bulls.
In 1996, O'Neal was part of the men's Olympic basketball team in Atlanta. That team went on to win the Olympic gold medal. It was during the Olympics that O'Neal announced his plans to join the Los Angeles Lakers as tensions rose amongst his coach, teammates and local Orlando Media. The Lakers offered O'Neal a seven year $121 million deal.
This move paired O'Neal with a teenaged Kobe Bryant, bringing two of the game's biggest names together on one team. However, while his first few years with the Lakers were promising, they failed to clinch a championship. O'Neal battled against injury and personnel changes until a change in leadership turned things around.
The arrival of former Chicago Bulls coach Phil Jackson in the 1999-00 season set the Lakers on a path that would make them a dominant force for years to come. Jackson challenged O'Neal and led him to step up his defensive game. Shaquille and the Lakers won the NBA championship that year, and would go on to win the title the next two years in a row.
O'Neal was traded to the Miami Heat in 2004. The following year, Shaq signed a 5-year contract with the team for $100 million. While he likely could have demanded more money, he stated that it was another championship that he was after. The team got their chance the very next year, as the Heat beat the Dallas Mavericks to clinch the team's first ever title and O'Neal's fourth.
Beginning in 2008, O'Neal's days of long-term contracts with teams had come to an end. That year he was traded to the Phoenix Suns where, for the first time since his rookie season, he failed to make the playoffs. At the end of his first season with the team, he was traded to free up the budget. More one-year stints would follow, including with the Cleveland Cavaliers (alongside Lebron James) and his final season with the Boston Celtics.
Player Profile
Shaq stands at an astonishing 7 feet one inch and his shoe size is a remarkable 23. He became famous largely due to his physical stature, which gave him a distinct advantage over his opponents. On two occasions in his early NBA career, Shaq's overwhelmingly powerful dunks broke the steel backboard supports of the net. This prompted the league to increase the strength and stability of the backboards from then on. O'Neal is famous for his "drop step" move which he nicknamed the Black Tornado.
Shaquille O'Neal Salary
What was Shaquille O'Neal's peak salary? $27 million
Salary by year and team:
1992-93 Orlando Magic $3,000,000
1993-94 Orlando Magic $3,900,000
1994-95 Orlando Magic $4,800,000
1995-96 Orlando Magic $5,700,000
1996-97 Los Angeles Lakers $10,714,000
1997-98 Los Angeles Lakers $12,857,143
1998-99 Los Angeles Lakers $15,000,000
1999-00 Los Angeles Lakers $17,142,858
2000-01 Los Angeles Lakers $19,285,715
2001-02 Los Angeles Lakers $21,428,572
2002-03 Los Angeles Lakers $23,571,429
2003-04 Los Angeles Lakers $24,749,999
2004-05 Miami Heat $27,696,430
2005-06 Miami Heat $20,000,000
2006-07 Miami Heat $20,000,000
2007-08 Phoenix Suns $20,000,000
2008-09 Phoenix Suns $21,000,000
2009-10 Cleveland Cavaliers $20,000,000
2010-11 Boston Celtics $1,352,181
Total career NBA earnings = $292,198,327
Other Media and Business Ventures
In the early nineties, Shaq was quickly becoming a huge star, exploring careers in the rap and film industry, appearing in films such as "Blue Chips" and "Kazamm". He has also been featured in guest roles on a number of other films and television show, including "Curb Your Enthusiasm" and "The Parkers." His first rap album, "Shaq Diesel" was released in 1993 and went on to become certified platinum. He continues to DJ and produce music under the name DIESEL. Shaq has also been featured in several video games throughout his career.
Furthermore, O'Neal has starred in multiple reality series and hosts his own podcast. Other media roles include being a frequent commentator on NBA games and even a stint in professional wrestling.
O'Neal has been active in the stock market and in real-estate since the 1990s. He has shown an interest in the business world as well. On March 22, 2019 it was announced that he would join the Board of Directors of Papa Johns. With the job, Shaq will earn $8.25 million in salary and stock over three years. He is also investing $840,000 of his own money to buy 30% of a 9-unit franchise of Papa Johns in Atlanta.
In 2013 Shaq paid $5 million for a 1% stake in the NBA's Sacramento Kings. In August 2021 Shaq sold his stake in the team so he could become the primary endorser of an online gambling company called WynnBET. He sold his stake in the Kings for $11 million.
Endorsements
Few athletes have embraced endorsements as fully as Shaquille O'Neal. As an instantly recognizable celebrity, a variety of companies have sought him out as a spokesperson. Some of his higher profile endorsements include Pepsi, Carnival Cruise Line and Reebok. A full list of Shaq's endorsement deals and commercial appearances would be too long to list.
Academic Achievements
One of Shaquille O'Neal's other great accomplishments is that of gaining a doctoral degree in education. After receiving his masters degree from the University of Phoenix, O'Neal embarked on the course through the private Catholic institution, Barry University. The course was primarily completed online over a number of years, and reflected O'Neal's passion for education and his interest in continuing to challenge himself.
Personal Life
Shaq married Shaunie Nelson in December 2002. They have four children together: Shareef, Amirah, Shaqir, and Me'arah. Shaq also has a daughter, Taahirah, from a previous relationship with Arnetta Yardbourgh. O'Neal filed for divorce from Shaunie in September 2007. They changed their mind and withdrew their divorce but in November 2009, Shaunie filed an intent to divorce. She cited irreconcilable differences. O'Neal dated reality star Nicole Alexander from 2010-2012. Since 2014, Shaq has been dating model Laticia Rolle.
When Hall of Fame center George Mikan died in June 2005, O'Neal paid for all of his funeral expenses.
Real Estate
For many recent years, Shaq's primary residence was an enormous 12-bedroom mansion in Orlando. The main home is 35,000 square-feet and features a 6,000 square-foot indoor basketball court, 17 car garage and 10 foot privacy wall. Shaq purchased the land for his home back in 1993 for $4 million and proceeded to custom-build his dream mansion.
He listed the home for sale for the first time in May 2018 for $28 million. He lowered the price in January 2019 to $22 million. It is located within a gated community called Isleworth Golf & Country Club.
In September 2020 Shaq lowered the asking price of the property to $19.5 million. He finally accepted $16.5 million in January 2021. Check out the video tour:
Outside of Florida Shaq owns a 15-acre in suburban Atlanta which he bought in 2017 for $1.15 million.
In 2018 he paid $1.8 million for a home within a gated community in an LA suburb called Bell Canyon. He listed this home for sale at the end of 2019 for $2.5 million.
Shaquille ONeal Earnings
Boston Celtics (2010-11)

$1,352,181

Cleveland Cavaliers (2009-10)

$20,000,000

Phoenix Suns (2008-09)

$21,000,000

Phoenix Suns (2007-08)

$20,000,000

Miami Heat (2006-07)

$20,000,000

Miami Heat (2005-06)

$20,000,000

Miami Heat (2004-05)

$27,696,430

Los Angeles Lakers (2003-04)

$24,749,999

Los Angeles Lakers (2002-03)

$23,571,429

Los Angeles Lakers (2001-02)

$21,428,572

Los Angeles Lakers (2000-01)

$19,285,715

Los Angeles Lakers (1999-00)

$17,142,858

Los Angeles Lakers (1998-99)

$15,000,000

Los Angeles Lakers (1997-98)

$12,857,143

Los Angeles Lakers (1996-97)

$10,714,000

Kazaam

$7,000,000

Orlando Magic (1995-96)

$5,700,000

Orlando Magic (1994-95)

$4,800,000

Orlando Magic (1993-94)

$3,900,000

Orlando Magic (1992-93)

$3,000,000
All net worths are calculated using data drawn from public sources. When provided, we also incorporate private tips and feedback received from the celebrities or their representatives. While we work diligently to ensure that our numbers are as accurate as possible, unless otherwise indicated they are only estimates. We welcome all corrections and feedback using the button below.