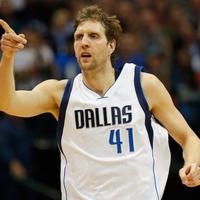 | | |
| --- | --- |
| Net Worth: | $140 Million |
| Salary: | $22.7 Million |
| Date of Birth: | Jun 19, 1978 (44 years old) |
| Place of Birth: | Würzburg |
| Gender: | Male |
| Height: | 6 ft 11 in (2.13 m) |
| Profession: | Basketball player |
| Nationality: | Germany |
What is Dirk Nowitzki's Net Worth and Salary?
Dirk Nowitzki is a German-born, retired professional basketball player who has a net worth of $140 million. Considered by many to be the best European NBA player of all time, critics also call Nowitzki one of the best power forwards to ever play basketball. He is known for his versatility on the court, he also stood out due to his 7'0 frame. With Dirk Nowitzki's help, the Dallas Mavericks won their only NBA championship in 2011. He also helped the German national team reach considerable heights, including a bronze medal in the 2002 FIBA World Championship.
Early Life
Dirk Nowitzki was born on June 19th of 1978 in Würzburg, West Germany. He was raised by parents who were both professional athletes, as his mother played basketball and his father played handball for the German national team. Dirk Nowitzki was always a tall child, and even at a young age, he towered above his peers. Although he initially gravitated towards tennis and handball, Nowitzki soon started playing basketball, where players of his height were common.
As a 15-year-old, Dirk caught the eye of Holger Geschwindner, a professional German basketball player. Seeing the young boy's potential, Geschwindner trained Nowitzki 3 days a week, emphasizing shooting and passing. After Nowitzki had developed to a certain point, Geschwindner asked him whether he wanted to stay in Germany to play basketball or play against the best players in the world. Nowitzki chose the latter, and Geschwindner ramped up his training to include daily sessions. At the age of 16, Nowitzki earned a spot on the German basketball team DJK Würzburg.
Career
Although Nowitzki's first season at DJK was disappointing, he bounced back in the second season and became a regular starter. By the end of the season, he was scoring over 20 points per game and establishing himself as one of Germany's brightest new stars. When Nowitzki was 18, he led DJK to promotion within Germany's first division.
After winning the title of "German Basketball Player of the Year," Nowitzki set his eyes on the NBA. While playing in Nike's Hoop Heroes Tour and the Hoop Summit, Nowitzki showed off his skills and even dunked on Charles Barkley. From that moment onward, teams all over the world wanted Nowitzki on their squad.
In 1998, Nowitzki was picked ninth in the NBA draft by the Milwaukee Bucks, who promptly traded him to the Dallas Mavericks. That year, Steve Nash also joined the Mavericks, and the two became close friends. Things looked promising for the Mavericks, but Dirk struggled in his first season – just as he'd done with DJK. The Mavericks missed the playoffs that year and the franchise was sold to billionaire Mark Cuban in 2000.
Cuban had money to spend on the team, and he purchased a private jet for the team to travel in. Nowitzki rose to the occasion, playing well throughout the season and eventually becoming the runner-up for the NBA Most Improved Player Award. By the 2000-2001 season, he was scoring an average of over 20 points per game.
Before the start of the 2001-2002 season, Nowitzki signed a six-year, $90 million contract extension, making him the second-highest-paid German athlete in the world (after Michael Schumacher). By the 2002-2003 season, Nowitzki was a vital member of the Mavericks, scoring decisive baskets and becoming the team's top scorer.
In 2004, Nowitzki achieved a new personal best with 53 points against the Houston Rockets. The Mavericks continued to steadily improve over the next few years, and Dirk Nowitzki became the face of the entire team. Despite a disappointing loss against the Golden State Warriors, he won the Most Valuable Player Award for the 2006-2007 season.
After a disappointing run of playoff losses in previous seasons, the Mavericks finally won the championship in the 2010-2011 season. Nowitzki was instrumental during the finals, scoring the winning basket in game four despite having a fever of 101 degrees Fahrenheit. He finished the season having won MVP once again.
In 2012, Nowitzki received knee surgery and the Mavericks failed to make the playoffs for the first time since his second season with the team. Over the next few years, the Mavericks would fail to regain their title-winning form, and Nowitzki suffered from Achilles tendon issues in the 2016-2017 season. In the 2017-2018 season, he suffered an ankle injury that ended put him on the sidelines until the last game was played. The Mavericks missed the playoffs again.
The 2018-2019 season proved to be Nowitzki's last, and he finished as the sixth-highest scoring player in NBA history. At the end of his career, Dirk Nowitzki left the NBA as the highest-scoring foreign-born player of all time. He also appeared in NBA All-Star games fourteen times. In addition, Dirk Nowitzki finished his career as the only player in NBA history to play more than 20 seasons for a single team.
Career Earnings
During his 21-season NBA career, Dirk earned $255 million in salary alone. That makes him the 6th-highest paid NBA player of all time in terms of salary.
Dirk played for the Dallas Mavericks for his entire career. By living in Texas Dirk saved A TON of money by not having to pay state income taxes (there isn't a state income taxes in Texas). Comparing to a player who earned a similar amount living in a high tax state like New Jersey, California, or New York, Dirk would have brought home around $33 million more from his paychecks. His annual average NBA salary was $12 million, so he essentially earned himself three free seasons sticking with Dallas.
Contracts
Although Dirk Nowitzki finished his career with a high net worth, he became well-known for taking discounted contracts throughout his career. For example, if Dirk Nowitzki hadn't signed a $59 million, 3-year extension in 2006, he would have been eligible for a $158 million, six-year contract two years later in 2008. At the end of the 2009-2010 season, he became a free agent and signed a four-year, $80 million contract. However, In 2014, Dirk Nowitzki signed a three-year, $25 million deal instead of what should have been a $239 million, five-year extension that would have taken him to the 2018-2019 season. Dirk Nowitzki signed another one-year, $25 million deal in 2016.
When 2017 arrived, he followed up with a two-year, $10 million contract that took him to the end of his career. In reality, Dirk Nowitzki was eligible for a $25 million deal for his last two years in the NBA. While this might seem like a grand injustice, the truth is that Nowitzki and his management team were on board with each decision.
Allegedly, this was an effort on Nowitzki's part to help the Mavericks pursue free agents and build their team from the ground up. That being said, it's interesting to note that if Nowitzki hadn't taken these discounted contracts throughout his career, he would have finished with career earnings of $446 million, which is $194 million more than his actual career earnings of $252 million.
Real Estate
After retiring, Dirk Nowitzki purchased a $5.75 million dollar mansion in 2019. The 11,000 square-foot mansion lies in the North Dallas neighborhood of Preston Hollow, which is home to celebrities such as ex-president George W. Bush and Mavericks owner Mark Cuban. The property previously belonged to the late billionaire Charles Wyly, who in 2010 had been targeted by the IRS after hiding $500 million in offshore, tax-free accounts.
Dirk Nowitzki Earnings
Dallas Mavericks (2012-13)

$20,907,128

Dallas Mavericks (2011-12)

$19,092,873

Dallas Mavericks (2010-11)

$17,278,618

Dallas Mavericks (2009-10)

$19,795,714

Dallas Mavericks (2008-09)

$18,077,904

Dallas Mavericks (2007-08)

$16,360,094

Dallas Mavericks (2006-07)

$15,101,625

Dallas Mavericks (2005-06)

$13,843,156

Dallas Mavericks (2004-05)

$12,584,688

Dallas Mavericks (2003-04)

$11,326,219

Dallas Mavericks (2002-03)

$10,067,750

Dallas Mavericks (2001-02)

$2,157,595

Dallas Mavericks (2000-01)

$1,693,560

Dallas Mavericks (1999-00)

$1,583,040

Dallas Mavericks (1998-99)

$1,472,640
All net worths are calculated using data drawn from public sources. When provided, we also incorporate private tips and feedback received from the celebrities or their representatives. While we work diligently to ensure that our numbers are as accurate as possible, unless otherwise indicated they are only estimates. We welcome all corrections and feedback using the button below.