Warren Beatty & Annette Bening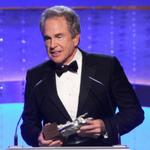 Warren Beatty
$70 Million
Annette Bening
$70 Million
Warren Beatty is an American actor, director and screenwriter who has been married to actress Annette Bening since 1992. Beatty is an Oscar-winning director who has been nominated for 14 Academy Awards and 18 Golden Globes, winning six. His TV and film credits include "Heaven Can Wait", "Reds", "Bonnie and Clyde", "The Only Game in Town", "McCabe & Mrs. Miller" and "Dick Tracy". Wife Annette Bening is a Golden Globe-winning actress who has been nominated for four Academy Awards. She has appeared in "American Beauty", "The Kids Are All Right", "The Grifters", and "Being Julia". Bening's marriage to Beatty was her second, after her 1984 union to choreographer J. Steven White ended in 1991. She married Beatty in 1992 after meeting on the set of the 1991 film "Bugsy". Together, they have four children: Stephen, born in 1992, Benjamin, born in 1994, Isabel, born in 1997, and Ella, born in 2000.
Warren Beatty is an American actor, producer, director, and screenwriter who has a net worth of $70 million. Over the course of his six-decade career, Warren Beatty has won widespread critical acclaim for writing, directing, acting, and producing...
Annette Bening is an American actress who has a net worth of $70 million. That is a combined net worth with her husband of several decades, Warren Beatty...
Profession
Screenwriter, Actor, Film director, Film Producer
Profession
Actor, Voice Actor
Date of Birth
May 29, 1958 (64 years old)
Nicknames
Henry Warren Beaty
Pro
The Chief
Warren Beaty
Henry W. Beaty
Henry Warren Beatty
Nicknames
Annette Carol Bening
Annette Francine Bening
A.B.
Nationality
United States of America
Nationality
United States of America
Warren Beatty Appearances
All Fall Down

Berry-Berry Willart

Bonnie and Clyde

Clyde Barrow

You Must Remember This: The Warner Bros. Story
Annette Bening Appearances
The Kids Are All Right

Nic