Tom Brady & Gisele Bundchen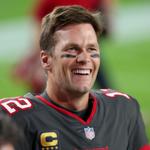 Tom Brady
$300 Million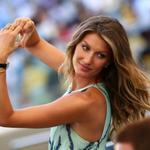 Gisele Bundchen
$400 Million
The quintessential example of 'the beautiful people,' NFL quarterback Tom Brady and Brazilian supermodel Gisele Bϋndchen broke hearts around the world when they married on February 26, 2009. They began dating officially in December 2006. Their son Benjamin Rein Brady was born December 2009 and daughter Vivian Lake Brady was born December 2012. Brady has a son named John (nicknamed Jack) from a previous relationship with model/actress Bridget Moynahan. Gisele Bϋndchen reached supermodel status when she joined the ranks of Victoria's Secret in 2000 and has graced the pages of many a magazine over the span of her career. Tom Brady was drafted by the New England Patriots in 2000 and led the team to three Super Bowl championships and was named Super Bowl MVP twice. Not surprisingly, Brady was also chosen by People magazine as one of their '50 Most Beautiful People' in 2002, as was his supermodel wife in 2004. The world was mesmerized by this super-beautiful super-couple and the internet was abuzz when they listed their custom-built home in Brentwood, California, especially when it was reportedly by Dr. Dre for $50 million. Unfortunately, Tom and Gisele's relationship began to hit the skids in 2022. They officially divorced in October 2022.
Tom Brady is an American professional football quarterback, spokesman and entrepreneur. Tom Brady has a net worth of $300 million. That is a separate net worth from his former wife, supermodel Gisele Bundchen who has a $400 million fortune on her own...
Gisele Bundchen net worth and salary: Gisele Bündchen is a Brazilian supermodel who has a net worth of $400 million. That fortune is separate and independent from her husband Tom Brady's $250 million fortune. Combined the Bundchen-Bradys are worth $650 million...
Profession
American football player
Profession
Supermodel, Fashion Model, Actor, Model, Television producer
Date of Birth
Aug 3, 1977 (46 years old)
Date of Birth
Jul 20, 1980 (43 years old)
Nicknames
Thomas Edward Brady, Jr.
Thomas Edward Brady
Thomas Edward Patrick Brady, Jr.
Tom Terrific
California Cool
Thomas Edward Patrick "Tom" Brady, Jr.
Nicknames
Gisele Caroline Nonnenmacher Bündchen
Gisele Bundchen
Gisele Caroline Bündchen
Gisele Caroline Nonnenmache Bündchen
The Midas Queen
Gise
The Body
The Hurricane Gisele
La Bundchen
Ethnicity
German Brazilian
Germans
White Latin American
Weight
225 lbs (102.06 kg)
Nationality
United States of America
Did we make a mistake?
Submit a correction suggestion and help us fix it!