Sonny Bono & Cher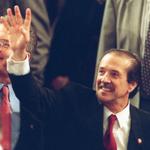 Sonny Bono
$15 Million
Cher
$320 Million
Sonny & Cher were an American pop music duo, actors, and entertainers that were quite popular in the 1960s and 1970s. Cher went on to have quite a successful solo career, and Bono, before his death in a tragic skiing accident, was a US Congressman. In 1964, Bono and Cher were married. They had one child, Chastity (later Chaz Bono), in 1969, but cited irreconcilable differences in 1975 and ultimately filed for divorce.
Sonny Bono Net Worth: Sonny Bono was an American recording artist, record producer, actor, restaurateur and politician who had a net worth of $15...
What is Cher's net worth? Born in El Centro, California, on May 20, 1946, singer and actress, Cher, most definitely believes in life after love, and has celebrated it...
Profession
Record producer, Politician, Singer, Songwriter, Actor, Musician, Film Score Composer
Profession
Record producer, Singer, Actor, Songwriter, Entrepreneur, Fashion designer, Model, Dancer, Film director, Comedian
Date of Birth
Feb 16, 1935 - Jan 5, 1998 (62 years old)
Date of Birth
May 20, 1946 (71 years old)
Nicknames
Salvatore Philip Bono
Mayor Sonny Bono
Sonny Christie
Ronny Sommers
Prince Carter
Salvatore Phillip "Sonny" Bono
Sonny
Sonny Bonno
Nicknames
Cherilyn Sarkisian
Cher Bono
Cherilyn LaPiere
Cherilyn Sarkisian LaPiere
Goddess of Pop
Cherilyn
Chér
Cheryl Sarkisian
Bonnie Jo Mason
Cleo
Ethnicity
Italian American
Ethnicity
English American
Armenian American
French American
Cherokee
Armenians
Height
5 ft 4 in (1.651 m)
Nationality
United States of America
Nationality
United States of America
Sonny Bono Appearances
Airplane II: The Sequel

Joe Seluchi

Escape to Athena

Bruno Rotelli

Murder on Flight 502

Jack Marshall
Cher Appearances
Rona Barrett's Hollywood: Nothing But the Truth