Salma Hayek & Francois Pinault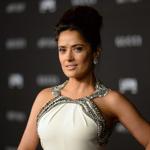 Salma Hayek
$200 Million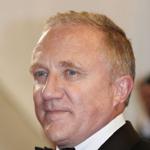 Francois Pinault
$7 Billion
French businessman Franςois-Henri Pinault (often called FHP) and actress/singer/producer Salma Hayek were married on Valentine's Day 2009 in a town hall in Paris, France. Later, on April 25, 2009, they repeated their vows in Venice, Italy in the presence of family and friends. They have one daughter together, Valentina Paloma, born September 2007. The couple resides in a regal 19th-century 'hotel particulier' (a grand townhouse) on the Left Bank in Paris, France. On Fridays, Franςois-Henri likes to drive Salma and Valentina out to Franςois senior's majestic château in Monfort-l'Amaury, about 45 minutes outside of Paris, where the entire Pinault family often gathers. Franςois-Henri is the CEO of the multi-national company Kering (originally founded by his father Franςois Pinault). He also serves as the Director of Financière Pinault and the President of Groupe Artémis' executive board. Hayek's career includes appearances in Mexican cinema as well as American films such as Desperado (1995 – opposite Antonio Banderas) and Fools Rush In (1997 – opposite Matthew Perry). Hayek has also lent her singing talents to several movies and was the executive producer of the popular television series Ugly Betty (2006 – 2010).
Salma Hayek Net Worth: Salma Hayek is a Mexican-born actress who has a net worth of $200 million dollars. Though it should be noted that Salma has been...
Francois Henri Pinault net worth: Francois Henri Pinault is a French businessman who has a net worth of $7 billion. Francois Henri Pinault was born...
Profession
Actor, Singer, Television producer, Film Producer, Film director, Voice Actor, Social activist, Model, Spokesperson, Businessperson
Profession
Entrepreneur, Businessperson
Date of Birth
Sep 2, 1966 (55 years old)
Date of Birth
May 28, 1962 (59 years old)
Nicknames
Salm Hayek Pinault
Salma Hayek Pinault
Salma Valgarma Hayek-Jimenez
Salma Hayek Jiménez
Selma Hayek
Selma Hayek Pinault
Ethnicity
Lebanese American
Lebanese people
Arab Mexican
Mexican people
Salma Hayek Appearances
After the Sunset

Lola Cirillo