Kurt Russell & Goldie Hawn
Kurt Russell
$100 Million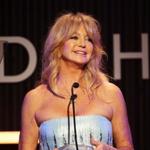 Goldie Hawn
$90 Million
Kurt Russell is an American actor who has been dating actress Goldie Hawn since 1983. Russell is a former child actor who has starred in dozens of TV shows and films, including "The Travels of Jaimie McPheeters", "Elvis", "Silkwood", "The Thing", "Miracle" and "Poseidon". Russell has been nominated for an Emmy Award and for a Best Performance by an Actor in a Supporting Role Golden Globe. Partner Goldie Hawn is an Academy Award-winning actress with credits that include "Private Benjamin", "Foul Play", "Death Becomes Her" and "The First Wives Club". Hawn was married twice before settling down with Russell in 1986 after the pair reconnected on the set of "Swing Shift" while Russell was divorcing his first wife, Season Hubley. They had first met in 1968 on the set of "The One and Only, Genuine, Original Family Band". Hawn and Russell have been together since 1983 and welcomed their son, Wyatt, in 1986. Hawn's children from her second marriage, Oliver and Kate Hudson, look at Russell as though he is their father. The couple co-starred in the comedy "Overboard" while they were dating, and have a handful of grandchildren.
Kurt Russell Net Worth and Salary: Kurt Russell is an American actor who has a net worth of $100 million dollars. Starting off as a successful child actor...
Goldie Hawn is an iconic American television and film actress who has a net worth of $90 million. Beginning her career in show business way back in the late 1960s on the iconic TV sketch comedy series Rowan & Martin's Laugh-In...
Profession
Actor, Screenwriter, Voice Actor, Film Producer
Profession
Actor, Singer, Film Producer, Film director, Dancer, Author, Television producer
Date of Birth
Mar 17, 1951 (71 years old)
Date of Birth
Nov 21, 1945 (76 years old)
Nicknames
Kurt Vogel Russell
Nicknames
Goldie Jeanne Hawn
Goldie Jean Studlendgehawn
Goldy Jeanne Hawn
Go-Go
Goldie Jeanne
Goldie Jean Hawn
Ethnicity
Hungarian people
Hungarian American
Nationality
United States of America
Nationality
United States of America
Kurt Russell Appearances
Breakdown

Jeffrey 'Jeff' Taylor

Executive Decision

Dr. David Grant
Goldie Hawn Appearances
Bird on a Wire

Marianne Graves

Death Becomes Her

Helen Sharp