Jenny McCarthy & Donnie Wahlberg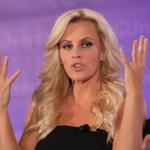 Jenny McCarthy
$25 Million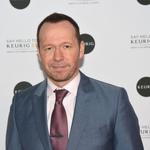 Donnie Wahlberg
$25 Million
Jenny McCarthy and Donnie Wahlberg started dating in July of 2013, after appearing together on the Bravo late night show, Watch What Happens Live; they were married five months later on August 31, 2014. The pair announced their engagement on The View (a show McCarthy was appearing on) four months before their wedding. McCarthy is best known for her various comedy and various television shows, while Wahlberg is probably best known as one of the member of New Kids on the Block, and for playing "Danny Reagan" on the hit CBS television series, Blue Bloods. McCarthy has a son from a previous relationship, and Wahlberg has two children with ex-wife Kim Fey.
Jenny McCarthy is an American model, Playboy Playmate, television host, actress, author, and activist who has a net worth of $25 million. That is a combined net worth with her husband since 2014, Donnie Wahlberg...
Donnie Wahlberg net worth and salary: Donnie Wahlberg is an American actor, singer and producer who has a net worth of $25 million. He first became known...
Profession
Comedian, Actor, Model, Author, Presenter, Television producer, Voice Actor
Profession
Singer, Actor, Record producer, Film Producer, Songwriter, Music Arranger, Radio personality, Television producer, Singer-songwriter
Date of Birth
Nov 1, 1972 (49 years old)
Date of Birth
Aug 17, 1969 (52 years old)
Nicknames
Jennifer McCarthy
Jennifer Ann McCarthy
Jennifer Ann "Jenny" McCarthy
Jennifer "Jenny" McCarthy
Jenny
Nicknames
Donald Edmond Wahlberg
Wahlberg, Donnie
Cheese
Donnie D
Ddub
Donald Edmond Wahlberg, Jr.
Donald Edmond "Donnie" Wahlberg, Jr.
Donald E. Wahlberg
Ethnicity
Swedish American
German Canadian
English American
French Canadian
Irish people
Height
5 ft 10 in (1.78 m)
Nationality
United States of America
Nationality
United States of America
Jenny McCarthy Appearances
BASEketball

Yvette Denslow

Dirty Love

Rebecca Sommers
Donnie Wahlberg Appearances
The Sixth Sense

Vincent Grey

New Kids on the Block

Vocals