Holly Valance & Nick Candy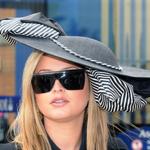 Holly Valance
$20 Million
Nick Candy
$2 Billion
Australian actress/singer/model Holly Valance married billionaire luxury property tycoon Nick Candy in Beverly Hills, California in 2012. Their wedding ceremony reportedly cost £3,000,000 ($5,023,200 U.S.) with the likes of Elton John and Simon Cowell as wedding guests. The couple had their first child, a girl, in November 2013 and named her Luka Violet Toni ('Toni' in honor of Nick's father, Tony Candy, who passed away only weeks before the baby girl was born). Holly began her acting career in 1999 as Felicity 'Flick' Scully on the Australian soap opera Neighbours. Her first album, Footprints, was released in 2002. She guest-starred in Prison Break in 2006 and appeared in such movies as Taken, alongside Liam Neeson. Her latest role is that of a judge on the TLC reality show Ultimate Shopper. Nick Candy and his brother Christian Candy purchased their first property in 1995, using borrowed funds from their grandmother, and lived in the apartment complex while renovating it. Eighteen months later they sold the property for a profit of £50,000 ($83,720 U.S.). Holly and Nick are fierce advocates for raising awareness for disabled children. In a June 2013 interview, Holly tells Hello Daily News that she and husband Nick would consider adopting a disabled child.
Holly Valance net worth: Holly Valance is a British model who has a net worth of $20 million dollars. Holly Valance was born in Melbourne...
Nick Candy is a British luxury property developer and interior designer who has a net worth of $2 billion. Nick earned his fortune as co-owner of the property development/design team Candy & Candy, along with his brother Christian Candy...
Profession
Singer, Model, Actor
Date of Birth
May 11, 1983 (39 years old)
Nicknames
Holly Valence
Holly Walance
Holly Rachel Vukadinović
Valance, Holly
Holly Rachel Vukadinovic
Holly Rachel Candy
Holly Rachel Valance
Holly Candy
Ethnicity
Serbian Australian
Holly Valance Appearances