George H.W. Bush & Barbara Bush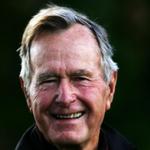 George H.W. Bush
$25 Million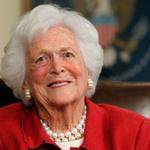 Barbara Bush
$25 Million
George HW Bush and Barbara Pierce met when Barbara was 16 years old and a student at the Phillips Academy in Andover, Massachusetts. The pair met at a dance over Christmas vacation, and a year and a half later, the two became engaged, just before George went off to World War II as a Navy torpedo bomber pilot. When he returned home after the war, Barbara dropped out of school at Smith College, and two weeks later the pair were married in Rye, New York at the First Presbyterian Church. The couple went on to have six children: George W Bush, Robin Bush, John Ellis "Jeb" Bush, Neil Mallon Bush, Marvin Pierce Bush, and Dorothy "Doro" Bush Koch. George HW Bush became Vice President under President Ronald Reagan from 1981-1989 and was President of the United States from 1989-1993.
George H.W. Bush Net Worth: George H.W. Bush was an American politician and former US President who had a net worth of...
Barbara Bush net worth: Barbara Bush was an American philanthropist and former First Lady of the United States who had a net worth of...
Profession
Businessperson, Politician, Entrepreneur, Military aviator
Date of Birth
Jun 12, 1924 - Nov 30, 2018 (94 years old)
Date of Birth
Jun 8, 1925 - Apr 17, 2018 (92 years old)
Nicknames
Bush Senior
George Bush
George Herbert Walker Bush
41
The Résumé Candidate
Senior
The Wimp
Poppy
G.H.W. Bush
George Bush Sr.
Nicknames
Barbara Pierce
barbara_bush
Barbara Pierce Bush
First lady Barbara Bush
Bar
Miss Frank
Silver Fox
The Enforcer
Snowbank
Ethnicity
Scotch-Irish American
Caucasian race
Nationality
United States of America
Nationality
United States of America
George H.W. Bush Appearances
Thank You, Mr. President: Helen Thomas at the White House
Barbara Bush Appearances