Avril Lavigne & Chad Kroeger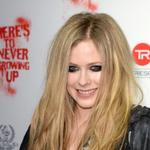 Avril Lavigne
$60 Million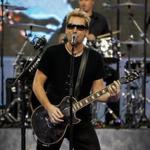 Chad Kroeger
$80 Million
Avril Lavigne and Chad Kroeger met each other when they were supposed to be writing songs together for Avril's album. They co-wrote the song "Let Me Go" which was a break up song that actually brought them together. They discovered that they had chemistry and things went from there. Lavigne said that the couple "bonded like crazy". In March 2012 the couple started with a close friendship and started dating in July. Kroeger proposed to Lavigne and gave her a 14 carat engagement ring. Just a month later they got married in the South of France. The wedding was part of a wild three day party at a castle. Lavigne told Chelsea Handler that she didn't remember much of her wedding. "We got married at 9 o'clock at night, partied until 6 in the morning". Before Chad, Avril was married to Deryck Whibley, lead singer of band Sum 41, whom she divorced in November 2010. She was also linked to Brody Jenner and even tattooed his name on her ribcage. The couple currently does not have any children. They do plan on having babies but not anytime soon. "We both want it, we just need to find a time we're both home…" said Chad.
Avril Lavigne Net Worth: Avril Lavigne is a Canadian-French singer, songwriter, and fashion designer who has a net worth of...
Chad Kroeger is a Canadian singer, songwriter, and musician who has a net worth of $80 million. In Kroeger terms, that's the same as 1.6 billion nickels. Chad Kroeger is most famous for being the guitarist and lead vocalist for Nickelback...
Profession
Singer-songwriter, Fashion designer, Model, Actor, Guitarist, Musician, Record producer, Artist, Music artist
Profession
Singer, Musician, Songwriter, Entrepreneur, Record producer, Guitarist
Date of Birth
Sep 27, 1984 (37 years old)
Date of Birth
Nov 15, 1974 (47 years old)
Nicknames
Avril
Avril Lavinge
Avril Ramona Lavigne
Nicknames
Chad Kroger
Kroeger, Chad
Chad Robert Turton
Chad Robert Kroeger
Avril Lavigne Appearances
American Idol

Reality show judge