September 12, 1984 was a Wednesday. Ronald Reagan was President. Tina Turner's "What's Love Got To Do With It?" was the #1 song in the world. Perhaps most importantly, 9/12/84, turned out to be the greatest day in the history of the city of Chicago.
Two notable sports-related things happened on 9/12/84: #1) A 20-year-old Dwight Gooden struck out his 246th batter, setting the record for most strikeouts in a season by a rookie (he ended up pitching a total of 276 strikeouts). And #2) A 21-year-old Michael Jordan signed his very first contract with the Chicago Bulls.
The Chicago Bulls had the #3 pick in the 1984 NBA draft. Michael was chosen AFTER the Houston Rockets signed Hakeem Olajuwon with the #1 pick. With the #2 pick, the Portland Trail Blazers selected Sam Bowie.
After some negotiations, MJ and the Bulls agreed to a seven-year, $6 million deal. That averaged out to $850 thousand. For a comparison, the 2016 #1 pick, Ben Simmons, signed a 4-year deal that will pay $26 million. Averaging $6.5 million per year.
Around the same time, Michael signed his first deal with Nike. His first Nike deal paid $500,000 per year, over 5 years. It was the largest shoe contract of all time, up until to that point. Michael originally wanted to sign with Adidas, his preferred shoemaker. He even reached out to Adidas, asking them to meet–or beat–the Nike offer. Adidas couldn't get their act together, so Michael ended up wearing Nikes… for the first time in his life.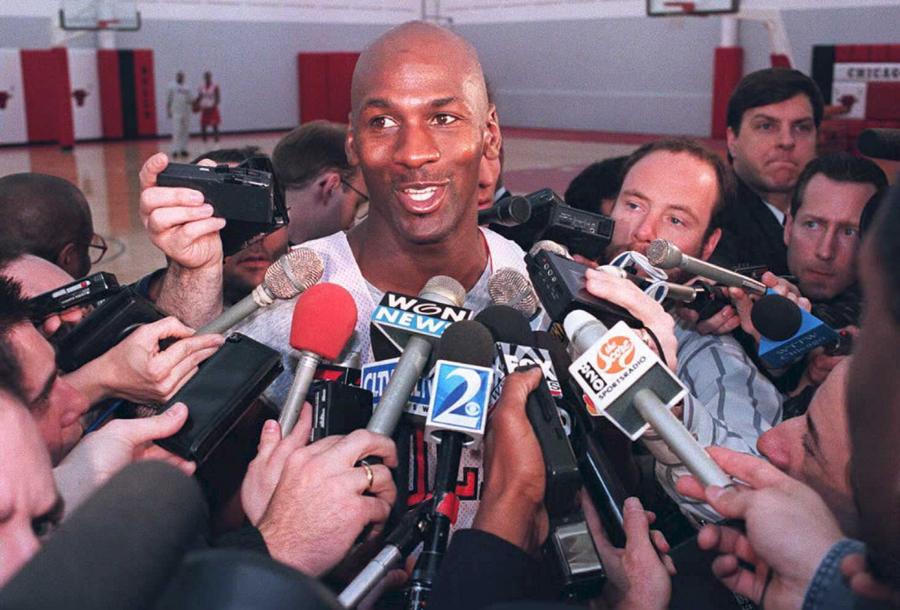 BRIAN BAHR/AFP/Getty Images
The year before signing Jordan, the Bulls had very mediocre attendance, only selling out 6 games all season. By the end of Michael's rookie season, attendance more than doubled.
At the end of Michael's fifth season, the Bulls signed him to an 8-year $25 million contract, which was the largest contract in NBA history. The same year, Michael signed a 10-year, $18 million deal to be the new face of Gatorade (which at the time was owned by Quaker Oats).
In 1996, Michael's NBA contract was up for renewal again. This time he signed a 1-year, $30 million deal. It was the largest single-season NBA contract until the very next year when he signed a 1-year, $33 million deal. No player broke that single-season deal mark until earlier this year, when LeBron James singed a three-year, $100 million deal with the Cavs that just barely edged out MJ.
That 1997-1998 $33 million deal ended up being Michael's largest career contract. In total, he earned $90,235,000 during his time in the NBA.
As we all know, Michael earned way more money from his Nike deal. In 1992, Michael earned 25 cents for every Jordan shoe that was sold. Today he earns $4 per shoe sold.
Between 2002 and 2012, Nike paid Michael $480 million. Between now and 2020, Michael is expected to earn around $225 million per year from Nike.
Michael's current net worth is $1.1 billion, and it's expected to top $2 billion some time in the next decade.
And to think, it all started 32 years ago today!