If you want a textbook example of what can happen when you have absolutely zero regard for saving money, look no further than music producer Scott Storch. At the peak of his popularity, Storch was one of the preeminent hitmakers in the game, crafting beats for the likes of Beyonce, Justin Timberlake, Chris Brown, Christina Aguilera, Dr. Dre, and Lil Wayne, among others, which helped him reach a net worth of roughly $70 million. Fast forward to today, and all of that fortune is a distant memory, thanks to a cocaine addiction that reportedly cost him $30 million, and a penchant for lavish spending that included a $10.5 million mansion and a $20 million yacht, both of which were repossessed as a result of Storch falling behind on payments.
In addition, because of his irresponsible drug use and partying, many of the artists he was previously working with, ceased working with him, which dried up his main source of income. As a result, Storch filed for Chapter 11 bankruptcy, not once, but TWICE. He did so once in 2009, and again in 2015. Storch reported earning just $10,000 in 2014, and owning just $3,600 worth of assets; $100 in cash, $500 in clothing, and a $3,000 watch. With all of that being said, it's safe to say that Storch hit rock bottom.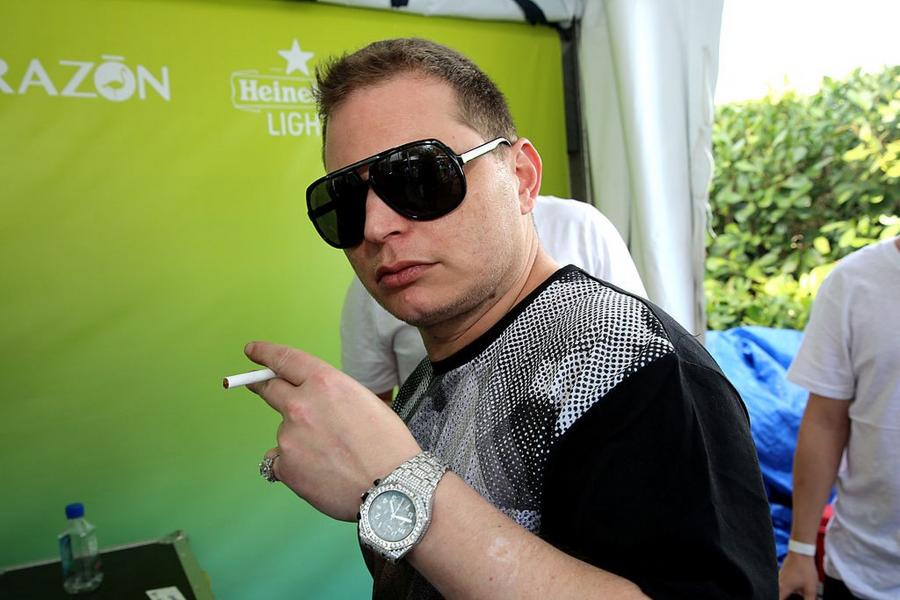 Luckily for the 42-year-old producer, two individuals by names of Brad Cohen and Seth Cohen wanted to help him through his tough times and get him back on his feet. The pair, who are wealthy through real estate and insurance holdings, entered into a deal with Storch last year, putting up over $1 million of their own money to help him get back into the music industry. Brad and Seth Cohen said they they believed that Storch "was once again ready to prove himself as a worthy record producer and use his deep connections in the music industry to make money for the three of them." They gave Storch a weekly salary, a Rolls-Royce Ghost, and a rental house in Parkland, Florida as a part of the deal. But now it seems that the deal has gone sour, and the Cohens want their money back.
According to a lawsuit filed by the pair, Storch is now backing out of the relationship, is "back to his old ways and is not someone to trust with any monies." According to the complaint, the agreement stated that if Storch had failed a drug test, or if it was discovered in any way that Storch was back to using drugs, that they would take the Rolls-Royce away from him. In mid-December 2015, the Cohens found that Storch was again using drugs. As a result, the Cohens wanted the Rolls-Royce back. The vehicle was under the name of Scott Cohen, and he didn't want the vehicle to become an insurance liability. As a result of the disagreement over the Rolls-Royce, this led to the relationship between the Cohens and Storch becoming sour.
The two parties are in dispute over the validity of an operating agreement. Storch's lawyer, Richard Wolfe, sent a letter to the Cohens that says that the agreement is invalid, saying that he agreement has a lack of consideration, is vague in its terms, and that it includes misrepresentations. In addition, Wolfe requests in the letter that the Cohens cease to exploit Storch's intellectual property.
According to the Cohens though, the agreement is completely valid. The pair, who are represented by attorney Darren Heitner, say that Storch is breaching the agreement by failing to perform production services. In addition, the agreement reportedly has a forfeiture provision in which Storch must surrender intellectual property. The pair also cite Storch's relationship with a woman by the name of Florence Mirsky as being problematic, as a result of her attempting to convince the producer to not work with the Cohens, so she could work with him.
The Cohens want damages for breach of contract, breach of fiduciary duty, fraud and unjust enrichment. They are also pushing for injunctive relief.
Says the complaint:
"Based on Storch's (a) history of drug use, including evidence of recent abuse; (b) prior squandering of monies received from providing services in the music industry; (c) overt affiliation with Mirsky that has a real threat of diverting monies actually owed to CCS; and (d) sincere concern that CCS will otherwise not be able to collect monies to repay the significant contributions provided by B. Cohen and S. Cohen, an injunction and additional remedies in equity are necessary under the circumstances."
Storch's lawyer is not taking the lawsuit lightly. Said Wolfe:
"The lawsuit attaches documents that are forged. The lawsuit was filed in violation of federal law and we will be seeking a federal contempt order against the plaintiffs and their lawyers. The lawsuit is not serious and the only reason it was filed is to garnish publicity for the plaintiffs. Accordingly, it will be treated as nonsense."
Heitner says, "The lawsuit speaks for itself. We will push forward and seek relief for the wrongs that have been and continue to be committed by the Defendants."
We will keep you updated on this story when more information becomes available.