Last Friday I was sitting in a bar getting ready to watch game three of the World Series when something pretty cool happened. Right after the national anthem was sung, and the military jets did a fly-over, the game cut to commercial. Normally that's not a big deal. But in this case, the very first commercial that played (for the new Samsung Note) happened to star my friend Josh Breeding. I blurted out "I know that guy!" but everyone was too busy pounding Fireball shots. Fast forward to tonight, and I see the same commercial again. And this time it aired during the first commercial break of LeBron James' homecoming game in Cleveland. Over the last couple years it seems like Josh has booked dozens of nationally televised commercials that all tend to air during major television events like the Oscars, the Super Bowl or the World Series. So what's that like? Is that a full time job? And how does someone become a super successful actor in the commercial world? Let's find out!
I guarantee you've seen Josh's work. Most likely many times. In addition to the Samsung commercial, Josh recently appeared in a spot for Wonka candies where he gives a woman random mad-libbed directions like "So, you're gonna wanna palm tree up the fish. Keep unicorning till the smiley face of the soccer shoe…" Does that ring a bell? It aired a ton over the last couple months: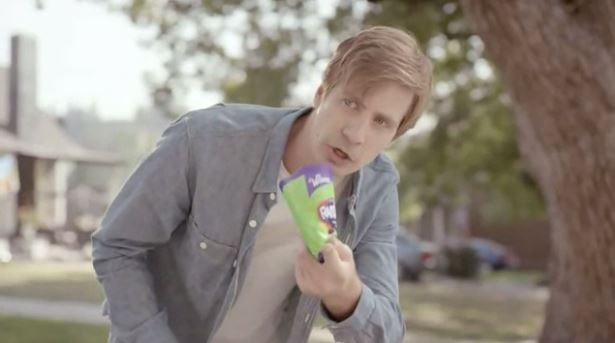 Here's an ad Josh did for Captain Morgan that I thought was pretty funny:
And here's a Dominos ad that was actually Josh's first commercial to air nationally:
You get my point. Josh has beaten insane odds to make carve out a nice little career in the highly competitive world of commercial acting. And that's kind of crazy because his original dream was to be a comic book illustrator. So how does someone go from wanting to draw comic books to appearing in commercials? That's the subject of this week's Celebrity Net Worth podcast!
Josh and I had an awesome conversation in which he describes his journey and what his life is like now. He also describes how being a successful commercial actor can be a blessing and a curse. especially for people like the Verizon Guy or Flo from Progressive. Take a listen, I think you're really gonna enjoy Josh's stories:
How awesome was that? I loved hearing about the "golden handcuffs" that Josh has come very close to getting a couple of times. Would you take the golden handcuffs? For those of you who haven't listened yet, would you be the Verizon Guy if it meant you never had to work again but you could also probably never land another acting role?
As a reminder, you listen to all of our podcast episodes by visiting this iTunes link. Please subscribe and give us a good rating!