Dawn Lafreeda has been determined to be a huge success her entire life. She grew up in a family that had very little and constantly struggled to make ends meet. Her mother worked for years at their local Denny's and eventually was promoted to manager then district manager. But even with these promotions, times were still tough for the family. When Dawn was just 13 years old, she made up her mind that someday she would own her own business and make lots of money. Fast forwarded a few decades and those two predictions have definitely come true. In a big way.
When Dawn Lafreeda was 16 years old, she faced a very common teenage problem. She needed money to buy a car. Inspired by her mom, Dawn went out and got a job as a hostess at the local Denny's in Orange County, California. Pretty soon, she worked her way up to being waitress and within no time she had saved enough money to buy a car.
During the first (and only) year of college she attended, Dawn continued to work almost nonstop at Denny's but somehow made time to take on a second job selling accounting software for Certified Public Accountants (CPAs). Selling accounting software had a big impact on the future tycoon. This is where Dawn learned the most important aspects of running her own business. She learned about payroll, accounting, taxes, and computers. All vital skills for a budding entrepreneur.
In 1984, when Dawn was just 23 years old she took a big leap of faith and used every penny she had ever saved up plus lots of credit card debt to buy two restaurants of her own. She bought a Hobo Joe's and Colony Kitchen restaurant in Globe, Arizona – a small mining town 90 miles east of Phoenix. The two restaurants were part of a chain Denny's had recently acquired. Lafreeda did well there, despite not always being taken seriously by customers and employees because of her age.
At 23, the blonde Californian looked, in her own words, "like a 12 year old".  But Denny's corporate offices didn't care how old she was. Denny's execs were blown away by how much money she was making in a small market.  When the oil boom turned to dust in West Texas, Denny's offered to sell Lafreeda four under-performing restaurants in San Angelo, Texas. She had been in business for just 18 months at this point but, again she jumped at the opportunity.
It was challenging taking on those blighted restaurants in Texas, and Lafreeda was still on a steep learning curve. Rural San Angelo, Texas was a very different place than Orange County, California. She experienced true culture shock. In one way, she actually benefited from being so young. There is a certain fearlessness that comes with youth. In other ways, she was hampered. Bank managers wouldn't give her loans because of her age and looks. The bank managers did not believe that she could possibly be the owner of a growing conglomerate of restaurants.
Saddled with making her locations successful in the depressed economy of West Texas, Lafreeda called Denny's corporate offices every week and practically begged them to sell her a restaurant in the nearest big city. Eventually they relented and Dawn was able to acquire a location in San Antonio. It was 1986 and she was 24 years old.
Along the way Lafreeda pushed forward, never taking no for an answer. If one bank would not work with her, she pounded the pavement until she found one that said yes. Her strategy of determination worked. Over the next few years, her empire grew to a dozen locations. Then 20. Then 30. Then 40. Today, Dawn Lafreeda is one of the most successful restaurant franchise owners in America. In 2014, Dawn celebrated her 30 year anniversary in the franchise business. Today she owns 76 Denny's located across Texas, Missouri, Kansas, Illinois, Arkansas, and Oklahoma. Her company, Den-Tex, Inc., brings in an estimated $85 million dollars in revenue.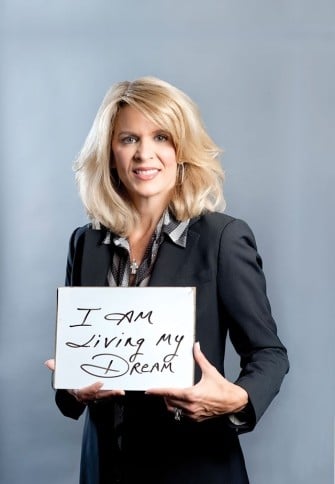 Dawn Lafreeda has been a trailblazer in an industry without much female representation. This hit home especially hard when several years ago, she was contacted by Denny's corporate office because a group was looking for a female speaker for a program they were trying to organize. They only had men on their slate of speakers and got in touch with a number of franchise chain headquarters to find a female multi-location, multi state owner. There were not a lot of women in this position.
Today Dawn cites Denny's value as a major reason for her success. With their $2, $4 $6, $8 strategy, it ensures that even if a customer only has $2 to spend, he or she can get a good meal. The company has been in business for more than 60 years and has weathered challenging economic times.  Where other restaurants were closing their doors, LaFreeda expanded during the recession. While other chains were getting hammered by a sour economy, she opened 10 Denny's restaurants in 2010 and 14 in 2011.
Lafreeda runs a 24 hour a day business, meaning she is nearly always on duty.  She works six days a week, but is pretty much working 24/7/365. As crazy as it sounds, whenever Dawn travels, she eats almost exclusively at Denny's. Also, whereas most highly successful franchise owners usually end up diversify across several different restaurant brands, Lafreeda has remained loyal to the restaurant that believed in her when all the way back to when she was hired with no experience as a 16 year old hostess.
Not many people take their first job and turn it into a hugely successful conglomerate. But that is just what Dawn Lafreeda has done. In fact, she is not just the largest female franchise owner in the Denny's organization; she is the largest owner overall!