Here's a happy story to start off the weekend!
Not sure if you heard, but yesterday the Powerball jackpot topped $564.1 million after steadily building up without a winner for over two months. Now, before you get excited, last night's drawing pulled three winners. That's the bad news. The good news is that one of those three winners has a really amazing story. It's the kind of thing where if someone other than you is gonna win the jackpot, you hope it's someone like this. But first a little background info…
The previous Powerball win occurred back on November 29. That winner was a Washington state woman named Lisa Quam. Lisa purchased her winning ticket at a grocery store on Thanksgiving day. She originally went to the store to buy two things: #1) Some pumpkin spice. And #2) A newspaper so she could get the latest Black Friday ads. While waiting in the checkout aisle, Lisa decided on a whim to buy two lottery tickets, one for her husband and one for herself. She had never bought a lottery ticket before in her life. Two days later when the winning numbers were announced, Lisa discovered that she was the sole winner of a $90 million prize. That's a $56 million lump sum. Roughly $40 million after taxes. (Lucky for her Washington has no state income tax!)
As impressive and awesome as that story is, it doesn't hold a candle to the one about a North Carolina woman named Marie Holmes.
Marie Holmes is a 26-year-old mother of four who lives in a town called Shallotte, North Carolina. Up until recently, Marie worked two low-paying jobs–one at McDonald's and the other at Walmart–to support her family. Unfortunately, she had to give up both jobs to stay at home and care for one of her children who suffers from Cerebral Palsy.
Needless to say, money is (was) tight. But when the Powerball jackpot creeped up above $560 million (the fifth largest jackpot in US history), Marie couldn't resist buying a ticket. So she went down to a gas station called the Scotchman. Why this store? Because her uncle worked there! He probably won't be for much longer though!
As luck would have it, Marie's randomly chosen numbers were perfect: 11, 13, 25, 39 and 54 with a Powerball number 19. She is one of three people in the US to correctly choose that exact winning combination of numbers.
Her share of the prize? $188 million. That's a lump sum of $127 million before taxes. That will be roughly $82.5 million after taxes.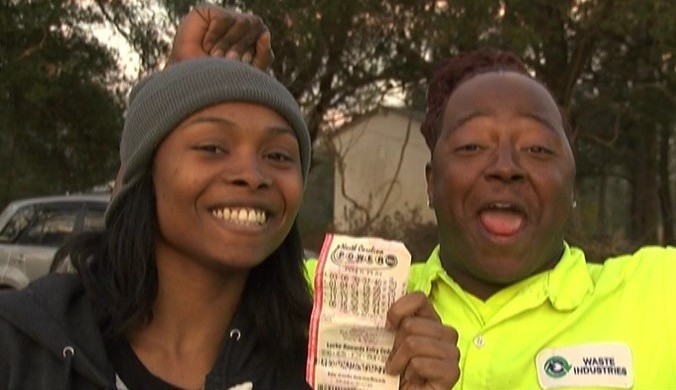 Not a bad little windfall for an unemployed mother of four! When she found out, Marie screamed so loud that her kids all started crying. She then explained to them what happened and yelled: "We don't have to struggle anymore!!"
When asked what she's going to do with the money, Marie told a local report that the first thing she is going to do is give some money to her church because: "I wouldn't have none of it if it wasn't for God."
Next Marie plans on setting up college funds for each of her kids. She also wants to buy a new house in a better neighborhood. She plans on conferring with a lawyer and a financial advisor as soon as possible.
"I'm ready for it. I'm ready to embrace the change. I'm very grateful for what's about to happen for my family. My children don't have to worry about debt. They can go to college, all on me. And they don't have to worry about nothing. The money is all for them."
The other two winners are located in Princeton, Texas and Ponce, Puerto Rico. They have not come forward, as of this writing.
Congrats to Marie Holmes! You deserve it!