Crazy news coming out of Ukraine this morning. Just a few hours ago, Ukraine's Parliament unanimously voted to remove President Viktor Yanukovych from office, effective immediately. This follows nearly two weeks of violent protests that left at least 100 Ukrainian citizens dead at the hands of state-controlled police forces. Former President Yanukovych is currently on the run, his precise whereabouts are unknown. Most believe Viktor has fled to Kharkiv, a mostly pro-Russian city five hours east of Kiev. Besides being the second largest city in Ukraine, Kharkiv is just 30 minutes away from the Russian border by car. Both the Mayor of Kharkiv and the Governor of the region have already fled to Russia. Yanukovych's main political rival, Yulia Tymoshenko, has been freed from prison where she has been rotting away in terrible conditions after being convicted of completely fabricated charges of defrauding the government (she was sentenced to seven years and ordered to pay a $188 million fine). Parliament announced new Presidential elections will be held on May 25.
In case you just tuned into this story and are trying to figure out how this belongs on Celebrity Net Worth, let me give you a quick recap. Ukrainian citizens are furious because during Viktor Yanukovych's four year Presidential term, their country was essentially hijacked by nothing more than violent, mafia-like family whose only objective was to rob the state of its most valuable resources. We recently posted articles that described two prime examples of Yanukovych's wholesale corruption:
Example one: Five Years Ago The President of Ukraine's Son Was A Humble Dentist Making $14k A Year. Today He's Worth $500 Million.
Summary: Before his dad became President, Oleksandr Yanukovych was a dentist in Kiev who made roughly $14k per year. One day, the two Yanukovychs formed a corporation called "Management Assets Corporation, LLC", which is commonly referred to as The MAKO Group. Between 2006 and today, The MAKO Group has somehow managed to grow from having basically no thing to controlling $900 million worth of formerly state-owned assets. Today, MAKO owns banks, insurance companies, state TV/media, construction firms, investment houses, real estate, fast food restaurants and even a winery. MAKO is the government's main construction contractor and somehow manages to win pretty much every bid for a privatized state asset for pennies on the dollar. Along the way, Oleksandr Yanukovych, a former dentist who just a few years ago earned $1,166 a month cleaning gums and fixing teeth, earned a personal fortune estimated at $510 million.
Result: No word yet on the whereabouts of Oleksandr, but I can't imagine he's loving life right now.
Example two: The President Of Ukraine Makes $115k A Year… Yet Somehow Owns This Sprawling $100 Million Lakefront Palace.
Summary: As soon as he took over Ukraine, President Yanukovych commandeered a 350 acre public park to be used as his own personal lavish palace. One of his first acts as President was to privatize the public land and transfer ownership into his own name. To make this transaction look mildly legit, he traded two dilapidated apartment buildings on the outskirts of Kiev for the palatial estate that is easily worth more than $100 million. The only Ukrainian politician who spoke out against this obvious example of wholesale state theft was Yulia Tymoshenko, the Prime Minister and one of Viktor's biggest political rivals. In retaliation, Yulia was arrested and convicted of completely trumped up charges by a kangaroo court controlled by the Yanukovych family. She was sentenced to seven years in prison and ordered to pay $188 million in restitution to the government. As we mentioned earlier, Yulia was released this morning.
After sending his main opponent to rot in jail, Viktor proceeded to use tens of millions of government money to transform his newly owned estate into a lavish private playground. Viktor added a zoo, an 18-hole luxury golf course, a horse riding club, tennis courts, bowling alleys, a helicopter pad, airplane hangar, an underground shooting range and a 70 car garage to house the President's fleet of exotic cars. He also fortified the entire area with a 16 foot tall barbed-wire fence and forbade anyone from taking photos of the property from the inside or outside. Therefore, very few pictures of the estate exist… Until today!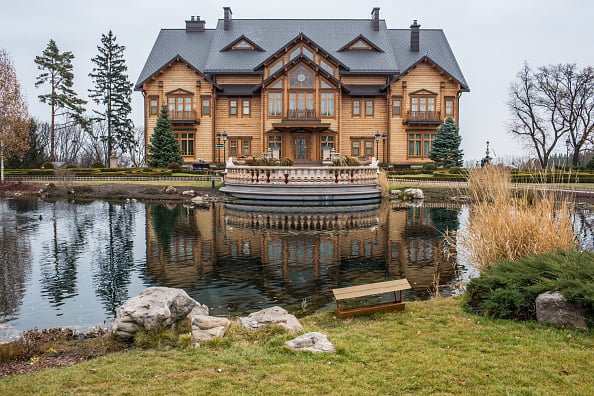 Result: When word got out that Yanukovych had fled the city, protesters immediately swarmed the gates of his palatial estate. When they discovered that the Presidential guards were gone as well, the protesters quickly seized the entire property and began opening the heavily-fortified barbed wire gates. Keep in mind that very few people other than President Yanukovych and his family have been allowed here in five years. And those who were invited, were strictly prohibited from taking any photographs.
Protesters found this gold coin featuring the President's face inscribed with with the words "It's Good to be King". Whoever ends up with this coin might consider adding these words to the coin's inscription: "…but just for a while."