Yesterday Facebook announced that it was spending $19 billion in cash and stock to acquire the messaging service WhatsApp. WhatsApp allows people to send text messages, photos and group chats for free to anyone in the world regardless of their location, carrier or phone operating system. Incredibly most people in the United States had probably never even heard of this app until yesterday, but it's extremely popular around the world. How popular? An estimated 450 million people use WhatsApp globally and one million new users sign up EVERY DAY. Mark Zuckerberg himself stated yesterday that not even Facebook grew anywhere near that quickly during its first five years as a company. But that's not the really amazing part of this story. The most inspiring aspect of the WhatsApp story is the journey company founders Jan Koum and Brian Acton had to take in order to get where they are today. One founder grew up in a dirt poor immigrant family that survived on welfare and food stamps. The other was rejected by every major tech firm in Silicon Valley (including Facebook!). As of yesterday afternoon, they are worth combined $12 billion. This is their incredibly inspirational story…
Let's start with the story of Jan Koum. Jan was born into a dirt poor Jewish family that lived in a small rural town outside of Kiev in the Ukraine. His family lived in a home that did not have heat or hot water. His mother was a housewife and his father worked construction. At the age of 16, Jan and his mother fled the Ukraine to Mountain View, California to seek a better life away from the growing anti-Semitic political movement. Once they settled into a tiny two bedroom apartment in California, his mother worked as a babysitter to make ends meet and Jan got a job sweeping the floors at their local grocery. To really make ends meet, the family relied on welfare food stamps that were handed out from a drab office complex not far from their apartment. When he wasn't working at the grocery store or helping his mom babysit, Jan taught himself computer programming using books that had been donated to a nearby used book store. While attending San Jose State University, Koum worked as a part time freelance security engineer and systems analyst for a handful of firms. One of those firms was search engine giant Yahoo. In 1997, Yahoo co-founder David Filo was so impressed by Jan's talents that he convinced him to drop out of school and join the company full time. One of the first employees Jan Koum met at Yahoo was a friendly fellow engineer named Brian Acton.
Brian Acton's story isn't quite as rags-to-riches as Jan Koum's, but it's still very interesting and inspirational. After graduating from the University of Pennsylvania undergrad, Acton earned a Computer Science graduate degree at Stanford University in 1994. His first job out of school was at Apple until he was hired as 44th employee at search engine Yahoo. As such an early Yahoo employee, Acton made a fortune in the run up of the original dotcom bubble. Acton's shares swelled in value as Yahoo's stock reached an all time high of $118.75 per share on January 3, 2000. Like everyone else in the world at that time, Brian thought the good times would never end and proceeded to invest millions into fresh new startups. Unfortunately, as we all know now, that bubble was prime for a massive explosion. Over the next year and a half hundreds of formerly hot tech companies disappeared off the face of the earth. Yahoo's stock price dropped 93%, and with it Acton's fortune was entirely wiped out.
On the bright side, today Acton can credit Yahoo for introducing him to Jan Koum. The duo quickly bonded over sports like ultimate frisbee and skiing. In 2007, they quit Yahoo and took a year off to travel South America together. Upon their return, both Acton and Koum tried unsuccessfully to get a job at pre-IPO Facebook. Acton, whose savings was nearly tapped, was more pressed to find a job whereas Koum had around $400,000 to keep him fun-employed for a while. After being rejected by Facebook, Acton proceeded to apply for jobs at every hot tech firm in the Bay Area. He was rejected by all of them including Twitter. Ironically, Acton even used Twitter to express his disappointment: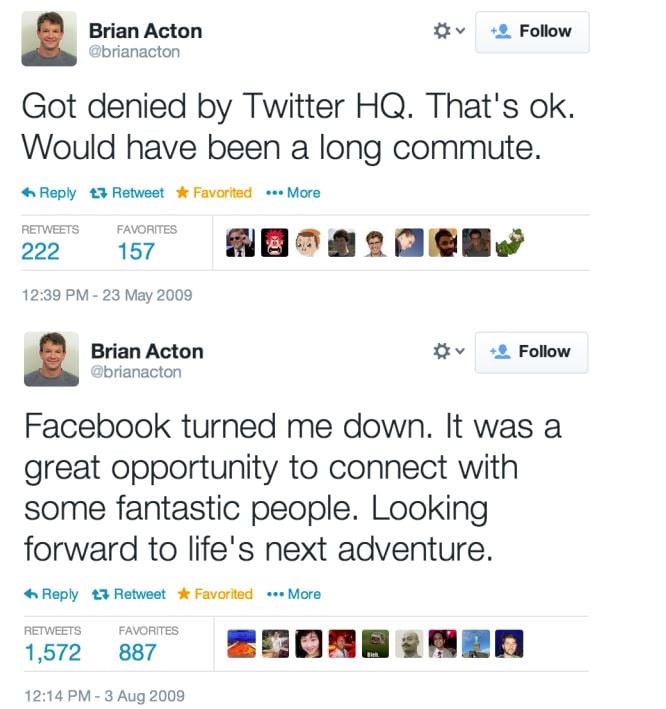 It turned out to be incredibly lucky that neither Koum nor Acton landed a decent job in Silicon Valley. After seeing an early iPhone, Jan Koum instantly knew that apps were going to be the wave of the future and that free messaging could be a massive opportunity. The duo launched WhatsApp in the middle of 2009. Koum chose the name because he thought it sounded like "Whats Up?".
Fast forward a little less than five years and WhatsApp has grown into the largest free messaging service in the world. The app is so big that Facebook could not resist buying it for $19 billion in cash and stock on February 19, 2014. It turns out Facebook actually bought the company after topping a $10 billion bid from cross town rival Google. The deal turned Acton and Koum instantly into billionaires. Acton's stake was worth $3.8 billion and Koum's was worth $8.55 billion.
But here's the best part: Before signing the paperwork that made him an instant billionaire, Jan Koum drove Acton and another early investor to a drab office complex down the road from the WhatsApp headquarters. This complex turned out to be the Mountain View Welfare offices where Jan used to come as a child to wait in line for food stamps. Imagine that. From welfare food stamps to $8.5 billion fortune all in the same neighborhood. The only way this could have been more awesome is if after signing the papers Koum dropped a microphone and walked away.
This is easily one of my favorite stories ever. Does it get any more inspirational than this?