Over the last 48 hours, a ton of people have sent us links to stories that claim Kanye West is a billionaire. Is that true? We know that Kanye is very successful both in music and fashion with his Yeezy clothing line, and both endeavors earn him a ton of money each year. But is he a billionaire?
This particular rumor can be traced back to a recent episode of Jimmy Kimmel where he was interviewing Kanye's wife, Kim Kardashian. Jimmy asked Kim about a recent Forbes article that claimed younger sister Kylie is a billionaire. Jimmy sheepishly asked Kim if she was a billionaire, to which Kim replied:
"I would say my husband is, so that makes me one, right? By proximity."
The correct phrase she was looking for was "by proxy"… but I digress.
So based on that one throw-away line on Kimmel, a thousand web sites have cranked out a thousand articles with headlines like, "Kanye West Is A Billionaire," giving no evidence at all. Some of the slightly more credible sites point to an article on TheBlast.com to back up their billionaire claims. That article on The Blast says, again without citation, that the Yeezy brand was recently valued at $1.5 billion "according to a source" and therefore Kanye is a billionaire.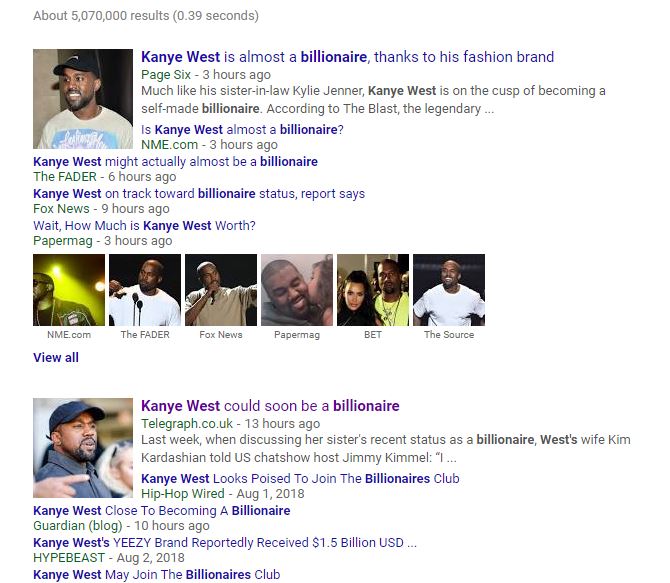 So look: Just like with the Kylie situation, I'm not trying to be a hater. Clearly the Yeezy clothing brand is valuable. But if his deal with Adidas is like every other celebrity clothing partnership with a major brand that's ever been done, he has a long way to go to being a certifiable billionaire.
Let's step back for a moment. Kanye ditched Nike back in 2013 was because he wasn't earning royalties. Adidas offered him a partnership in which they would pay him royalties, so he became an Adidas guy.
As a perfect example, Michael Jordan doesn't own the Jordan brand, Nike does. Michael gets paid royalties based on the sales and profits milestones. In a typical year, MJ earns $80 – $90 million in Jordan brand royalties.
According to Adidas insiders who spoke off the record to the New York Times in June 2019, Kanye earns a 5% royalty on Yeezy. The same article estimated that Yeezy's 2019 gross revenue will be $1.3 billion. It's unclear if Kanye earns 5% on gross sales or net profits. If it was gross, his 2019 projected royalty would be around $65 million. If it's net profits, his 2019 royalty would be around $20 million.
When the CEO of Adidas was interviewed by CNBC in May 2018, here's what he said about the Yeezy brand:
"There is no doubt the Yeezy brand has a fundamental impact on our overall brand position, but in the bigger context of us being a $25 billion company, it's a small part of our company."
Note how he said "a small part of OUR COMPANY."
I could be wrong and I'd be happy to be proven wrong, but I want to just throw some cold water on this rumor mill before it gets even more out of control. If you do trust Forbes, let me also point out that in their recent annual report of the highest-paid celebrities on the planet, Kanye did not make the cut (he was not in the top 100). In their 2017 report on the hip-hop's cash kings, they placed Kanye at #11 with earnings of $22 million. Could you assume that half of that came from music and the other half from Adidas? So in 2017 he theoretically earned $11 million in royalties from Adidas.
All I'm trying to say is there needs to be a little bit of skepticism before we all go around agreeing that Kanye West is a billionaire because Kim said so on Jimmy Kimmel. That's all. Until a serious financial new source like the Wall Street Journal does a deep dive on the revenue, costs, growth, royalties and ownership structure of Yeezy, I'm sticking by the statement that Kanye West is NOT a billionaire.