A few days ago we covered the story of a homeless man named Thomas. For those of you who missed this story, I'll give a very brief recap below. For those of you who didn't miss our article, prepare to be absolutely stunned by how much money the internet just raised in the last couple days to help Thomas get back on his feet.
Quick Recap: A few days ago, a YouTube prankster named Josh Paler Lin set out to see what would happen if he walked up to a random homeless person and gave him $100 cash. The joke was that Josh was expecting the homeless person to spend the surprise $100 in a totally insane and frivolous way. Like a carton of cigarettes, 100 Slim Jims and a keg of beer… all for himself. Not sure how that would actually be all that funny or interesting, but I digress. Josh ended up finding a homeless person named Thomas panhandling at the entrance of a Los Angeles freeway. As a hidden camera films from the distance, Thomas is left dumbstruck and nearly on the verge of tears by this random act of kindness.
And just as Josh expected, after receiving the cash Thomas makes a beeline for a liquor store. He emerges a few minutes later with 5-6 plastic bags that we assume are filled with dozens of frivolous items like mini-bottles of Jack Daniels, lottery tickets, vodka, chewing tobacco, swisher sweets etc…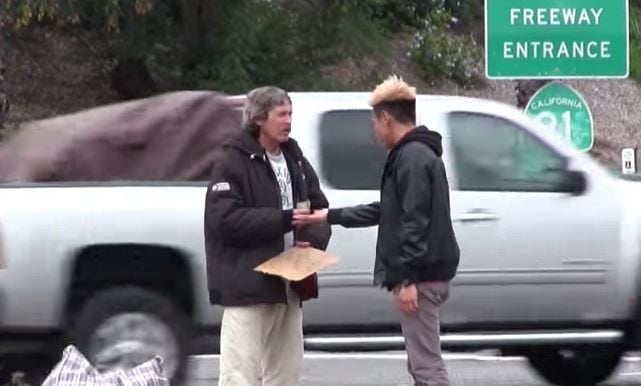 As it turns out, Thomas might be the best example ever of why you should never ever judge a book by its cover. Josh and the cameraman proceed to follow Thomas as he walks out of the liquor store, crosses a street and wanders into a local park. Thomas can then be seen going up to random fellow homeless people (who he does not know) and handing out food that he bought at the store. No liquor, no cigarettes, no keg of beer. Thomas bought as much food as he could buy with $100 and then gave it all away to complete strangers.
After seeing his prank backfire in the most unexpected way possible, Josh was ashamed and embarrassed. He had no other option but to reveal himself to Thomas and explain what had been going on. Fortunately Thomas wasn't upset. Thomas explained that he had been homeless for around four months. He had to quit his job to take care of his parents who were both sick, one with cancer and the other with kidney failure. They couldn't afford all of their medical bills and needed Thomas to help them with basic care. Tragically, both parents ended up dying, at which point Thomas was forced to sell off their condo to cover all the outstanding bills. The video of their entire encounter has now been viewed more than 23 million times on Youtube:
The Christmas Miracle:
Out of sympathy (and a little bit of guilt), Josh decided to launch an internet fundraiser for Thomas. The goal was to raise $10,000 within 30 days to help Thomas get a new apartment and a fresh start.
That $10,000 goal was passed in less than a day. In the time it took me to write the original article a couple days ago, the fundraiser went up by around $8,000 to a grand total of $35,000. When I checked back the next day, the fundraiser had jumped to $77,000!
As of this writing, December 26 at 7:45 PM PST, the "Help Thomas Get a Fresh Start" indiegogo page has raised a mind-boggling $109,390! More than 5400 people have contributed so far and there are still 26 days to go!
This is madness… In a good way! I mean, we saw what Thomas did when a stranger gave him $100, imagine what he'll do when a stranger gives him $150,000 or $200,000, or more! If you would like to contribute to this miracle, click the embed below: