Back when I was in college, my roommates and I figured out a surprisingly easy way to earn a quick buck off Amazon by selling our used and unwanted text books. It's not a trick or a scam or anything, it's a standard Amazon.com feature that many people either aren't aware of or don't know how to use. Amazon is especially great for college kids trying to sell text books that their school store either wouldn't buy back or offered $20 for a book that originally cost $120. In fact, NEVER sell your book back to your bookstore and NEVER buy your books from the book store. I guarantee you can save a ton of money buying everything through Amazon. Amazon was so helpful in college that I still use it once a year to sell any books I no longer want. This weekend I listed around 20 such books. Two days later I've sold 7 books and made just over $50. When I told a friend how I basically made $50 for doing nothing, she told me to write up the process and explain how it works so other people might be able to make a little bit of extra cash from their books.
Selling Your Used Books on Amazon.com:
Step 1: Search Amazon for the book you want to sell as if you were trying to buy it. You can search for it using the title, but to find the most accurate version of your book, search by the ISBN number which can be found on the back of any book, usually just above the bar code.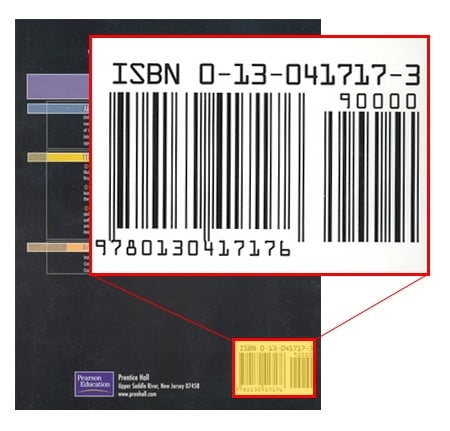 Step 2: After you've found the book's product page you should see a page that looks like this:

Notice the link right in the middle that says "44 used from $11.10"? Click that and you'll be taken to a page listing all the available used versions of your book. You should also see a link in the top right that says "Sell yours here". That's what you want to click.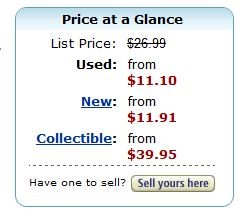 Step 3: Follow the six step process for entering the details about your book.
– For condition, you should be honest about how worn the book is. I'm pretty good to my books so I almost always select "Used – Like New".
– Always enter a few lines describing the book. If my book is in good condition I'll say "Near perfect, no highlighting, no bent pages, no damage. Basically a brand new book".
– For price, and this is the trick, always look at the current low price for the book and undercut it by a little bit. So if the current lowest price used version is going for $11, list yours for $10.50. What do you care? You were going to throw it away right?
– Quantity is however many you have.
– Shipping method – You always want to ship the item yourself to the customer who buys it. The standard $3.99 shipping is what you want and should already be selected.
Step 4: Click Submit your listing. Amazon will now list your book as the lowest used book for sale and if someone buys it, you will get an email explaining where to ship. Or just log into your "seller account" and view your orders to find all the shipping details.
Step 5: The US Postal Service has a little known, super cheap, book-only shipping rate called "media mail". Put the book you've sold into a basic shipping envelop with the address filled out, and ask the USPS for "media mail". In my experience, a heavy textbook costs less than the $3.99 shipping credit you get from Amazon, so you might actually make a little on the difference! Today I shipped a book that should have been $7 but with media mail it was only $2.30 so I'll make $1.69 off the shipping in addition to the $8 I made off the book.
Step 6: Getting paid. Amazon sends you a direct deposit within 30 days. It's extremely easy to set up and manage in your seller account.
Now if you want to make more than a few dollars off the books lying around your house, I have one more suggestion that takes a bit of work. In college, after we figured this Amazon system out, we took it to the next level by leaving big empty boxes all over town and campus for people who had books they wanted to get rid of. To our amazement, after a few days we had collected hundreds of books. Mostly from people who got rejected from the bookstore and were planning to just use their book as a paper weight. We became so obsessed with books that we started raiding our parents shelves and even attending garage sales on the weekends. In total we collected more than 1000 books. We then spent the entire summer entering each book into Amazon (we eventually had to get a higher level account). Eventually all the work paid off because we started selling 20-30 books a day. At first we were bringing books to the post office by hand, then we started putting them in suitcases and eventually we bought our own Pitney Bowes postal meter and scale. But it was all worth it because by the time school started in the fall, we had each made over $3000 after expenses. More than enough for a year's worth of food and beer.