Dear Dr. Dre,
I wanted to let you know how happy we here at CelebrityNetWorth were to hear that you are about to sell Beats by Dre for $3.2 billion dollars. As we predicted in our recent list of the richest rappers on the planet, this sale will bring you within an inch of being the world's first hip hop billionaire. It might actually make you a full fledged billionaire depending on your exact final payout and taxes. What an incredible achievement! Diddy must be absolutely furious. So, have you thought about how you're gonna spend the money? If you need some ideas, I spent the morning coming up with a quick list:
1) Buy the Clippers.
2) Trade in your Gulfstream private jet for a fully customized gold-plated Airbus A380.
3) Buy a Richard Branson-style private island.
4) Bribe Harvard Medical School to give you a medical degree, officially making you a real doctor.
5) Hire Kate Upton walk around your house in a bikini at all times for no reason.
6) Purchase Bugatti. Not A Bugatti. Bugatti.
7) Reimburse CelebrityNetWorth.com for killing our site for two days.
Wait, what was that last one? Oh ya, when you have a moment, just drop a blank check in the mail to cover all the money we lost after the Beats By Dre sale announcement crashed CelebrityNetWorth for nearly 48 hours. And not just the money we lost from lost ad revenue, but the money we spent on upgrades and technicians… and my future therapy bills.
Actually, I heard you recently purchased Tom Brady and Giselse Bundchen's $50 million mansion in Brentwood. That's a 10 minute drive from my apartment,. Maybe I'll drive on over there after I publish this article and leave an invoice in your mailbox.
Ok all kidding aside. WTF!!! These last two days have been absolute torture. And we had been having such a great week! Here's how it all went down…
It's Thursday at around 4pm. I'm sitting at my computer having a lovely afternoon. Typically at this point in the day, I have one window open where I'm working on an article for tomorrow, and a second window loaded up with Google Analytics. For those who don't work on the internet, Google Analytics is a fancy program that tells you exactly how much traffic is on your website, and what pages people are looking at. There's a really cool option that lets you view all these hypnotic stats in real time. Typically it looks like this: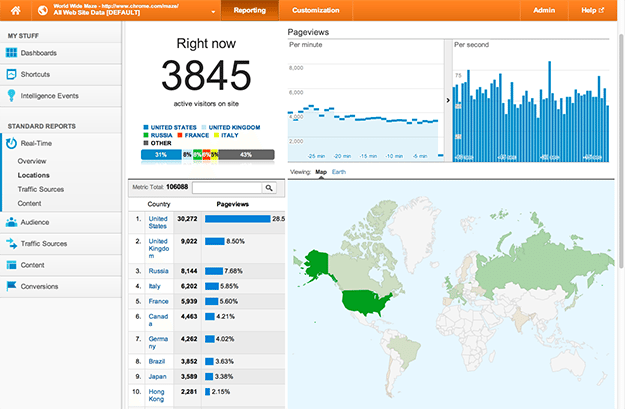 So I'm casually typing away on my article when suddenly I see the stats on real time analytics start climbing up. Not only are the stats climbing, but 90% of the visits are on pages related to Dr. Dre. That's not particularly unusual, so it didn't raise an eyebrow at first. It was Thursday, so maybe Dre appeared on American Idol or something. But as time went on, those real time stats started to climb and climb and climb…
I realize this sounds morbid, but my first thought was that maybe Dr. Dre had died. When celebrities die, especially ones that might have been super wealthy, we tend to see a massive surge in traffic to their pages. When Paul Walker died, we completely shattered our previous real-time stats.
As news broke about Dr. Dre and Jimmy Iovine selling Beats by Dre to Apple for a reported $3.2 billion, apparently the entire world decided to log onto CelebrityNetWorth.com. At the exact same time. It took less than five minutes to shatter all of our previous real time records: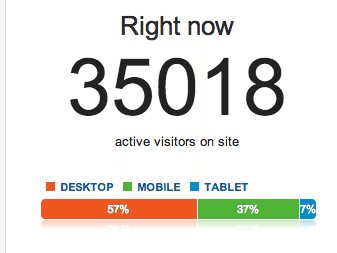 A few minutes later…
It felt great! Then, suddenly it felt not so great.
The site started to slow down. Then it froze. Then it crashed. Normally this wouldn't be a huge deal. We can reboot the servers and weather some pretty insane levels of traffic. But this Dr. Dre story turned out to be a completely different animal. The insane levels of traffic totally bombarded our database server with what are called "mysql queries". To the point where our servers were just overwhelmed. And unfortunately this wasn't a fleeting story. The traffic kept trying to pour in, which made it hard to get back up.
Long story short, we are back and better than ever today! Also, with the upgrades we just made, this should never happen again. Knock on wood. I want to give a big shout out and thanks to our developers and to our hosting company Rackspace who worked their asses off these last 24 hours to get everything restored. And thank you for your patience while we dealt with everything! Very happy to be back.
Now if you'll excuse me, I'm driving to Brentwood to drop an invoice off in Dre's mailbox.