On Sunday Celebrity Net Worth crowned Tiesto the richest dj in the world thanks to his personal net worth of $65 million! Fast forward three days later and the article has been viewed by over 300,000 people and has been liked and tweeted over 40,000 times. The article helped CNW smash all of our previous traffic records and the hits keep coming. So it's been a crazy week and we are really grateful to everyone who has visited the site and enjoyed the article. Wednesday morning we were pretty excited to see that Tiesto himself reacted to our article via Twitter. He also talked with his 1.1 million followers about what it's like being the richest DJ in the world and gave some advice on how he got there. Tiesto's tweet:

In case you were wondering, Tiesto was referring to this picture:
Calvin Harris retweeted with "Just another day at Tiesto's house!"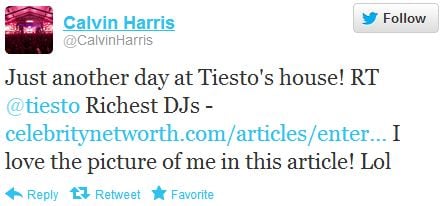 Shortly after sending his original tweet, Tiesto added the following:
It's funny but I never realize I get paid for this work as well! That's a bonus to me…
Maybe not many people know this but I used to play for 50 dollars a night back in the days..
When a fan asked if he ever had a side job other than DJing, he replied:
Worked in a record store and delivered pizza's!:)
Tiesto also shared some inspirational sayings for pretty much anyone with a dream:
When you love what you do, the money never matters!
Only passions, great passions, can elevate the soul to great things. -Denis Diderot
Remember: Memories will take you back but dreams will take you forward!
Very wise words. Everyone with a dream should pay attention. If you follow Tiesto's advice, nothing can stop you from being a huge success in any endeavor. Whether you want to be an actor, singer, model, CEO, rapper or even a DJ. You too some day might be the richest DJ in the world with a private jet, three mansions and have a personal net worth of $65 million!!! Oh and you might get to hang out with girls like this: