Many tune in to watch the cheery banter and fun mornings shared by talk show hosts Kelly Ripa and Michael Strahan on ABC's Live! With Kelly and Michael. But with ABC and Strahan announcing that the former NFL star will be taking his talents to Good Morning America – is the talk show pot about to spew over?
Ripa and Strahan have hosted the show together for four years, sipping coffee with each other and sharing friendly jokes five days a week. Despite the duo's seemingly close and friendly relationship, viewers of Live! may have been somewhat surprised when, after Strahan announced his impending departure, Ripa disappeared from the show.
Sources close to the long-time Live! matriarch report that Ripa was headed out of town for a pre-planned vacation, explaining Ana Gasteyer's presence as guest host the day after Strahan's announcement.
On that same day, Strahan gave a speech on the show, thanking all who had been a part of his success on the show – but did not mention Ripa by name until later in the episode when social media erupted. Strahan implied that he did not want to be brought to tears by mentioning her name.
Multiple outlets suggest that Ripa is not happy with the move and was reportedly "blindsided" by the announcement. Sources say that the Live! co-host only just found out about Strahan's departure – and suggest that Ripa is none too happy with the company's execs.
Ripa, who is worth $100 million, owns a mansion in the Hamptons and recently bought a $27 million Upper East Side townhome with her husband and former All My Children costar, Mark Consuelos, just last year. The mother of three is estimated to bring in $20 million for her role in Live!
According to TMZ, her expenses both add up and eat up the salary she makes on Live!, and with Strahan departing to Good Morning America, sources say that while Ripa would never leave the show because of this, this move could suggest the network is focusing less on Live! and more on their morning news flagship.
Strahan, whose net worth sits at $55 million, earns $10 million from his duties at the daytime talk show, and it is likely that his salary will see quite the increase as he joins the ranks of the morning news circuit. While no numbers are confirmed, his move could be signified as a career step above the daytime talk show industry.
Live! has never been without its twists and turns, however. After Kathie Lee Gifford left the show, Ripa was selected as her replacement, premiering as the show's newest co-host in 2001. After spending 10 years together on the show, Kelly said a tearful goodbye to long-time host Regis Philbin.
"Thank you for everything. I love you," she said as she hugged him goodbye on their last taping together, to which he responded, "I love you, too."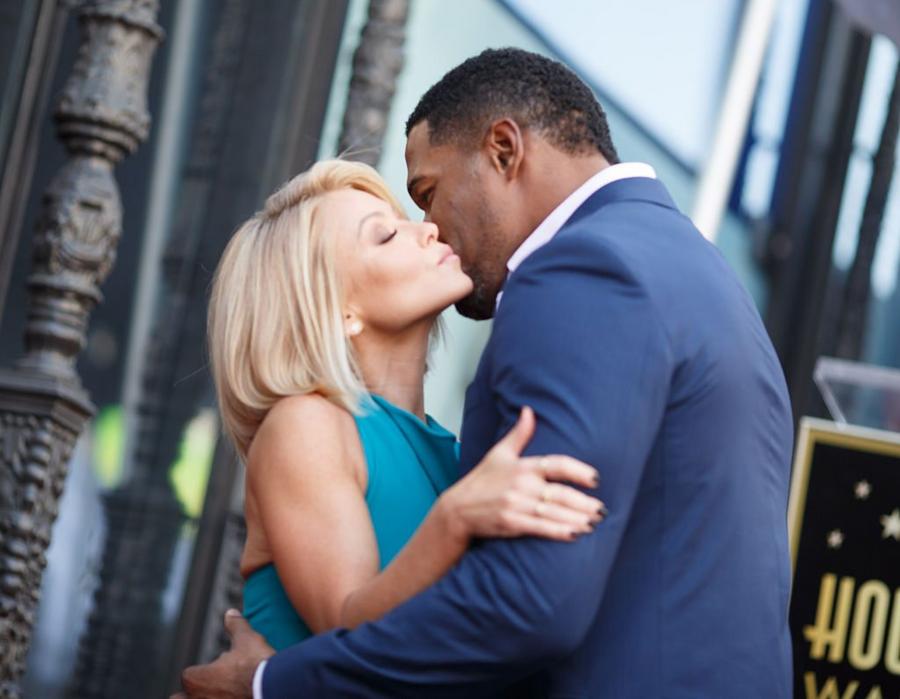 Mark Davis/Getty Images
Ten months later, Strahan premiered as the show's newest co-host, the product of another round of special on-air auditions.
As Ripa's camp remains quiet about the show's latest shakeup, Strahan is keeping to himself as well. While there have been no official announcements, it is likely that a similar audition process that garnered both Ripa and Strahan their daytime gigs will be utilized to fill the show's soon-to-be empty seat.
Ripa is reportedly due back to Live! sometime next week, while Strahan joins GMA in the fall.