Over the last 24 hours, we've been bombarded with emails, facebook messages and article comments from people who are under the impression that Anthony Bourdain was worth just $1.2 million at the time of his death. People were shocked by how low that reported number was considering the success we all assumed Anthony experienced with multiple TV shows and books throughout his career. People were also confused because $1.2 million was drastically different from the $16 million number estimate Bourdain was worth. So what's going on?
The misleading information can be traced back to an article in the New York Post's Page Six publication:
That article was then copied by dozens of publications like Business Insider, People Magazine, The Hollywood Reporter and Variety: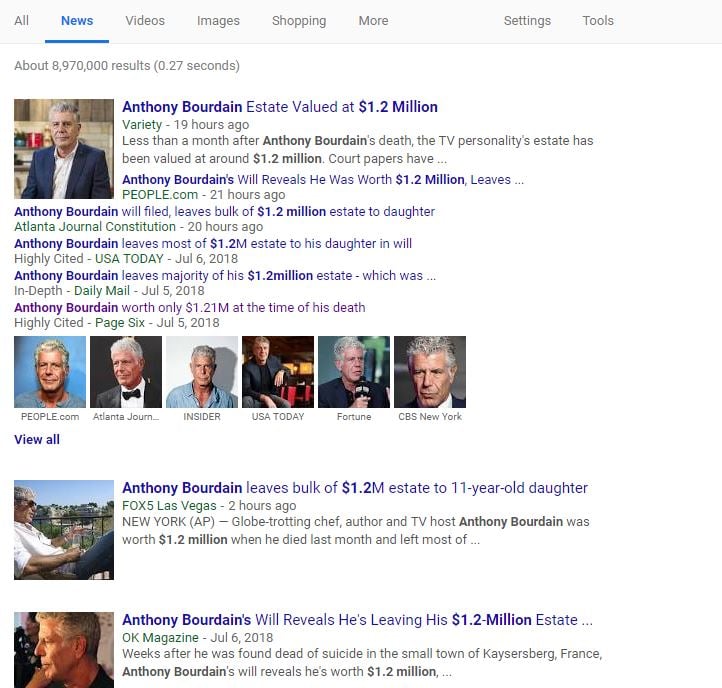 Page Six's original article claimed that they had accessed Bourdain's will to report this information. Unfortunately, what Page Six failed to mention is that the will does not include real estate assets or, more importantly, assets put into trusts. If you read deeper into the will, you will see that Bourdain put the majority of his assets and intellectual property into a trust back in 2016. The $1.2 million number is essentially his cash-on-hand, checking account balance, a brokerage account and personal items.
As TMZ confirmed, Anthony was far richer than his will suggested thanks to that trust he set up in 2016. Wealthy people often use trusts that are completely separate from their wills, partly for privacy but mainly for tax advantages. Anthony's will dictates that his daughter is the beneficiary of his trust.
We feel icky having to write about this situation to be totally honest and would absolutely prefer to let the man rest in peace. But at the same time, it's important to clear up misleading information that can easily become fact as it's repeated over and over.
For example, because of one false article back in 2014 many people believe that Robin Williams was broke at the time of his death and these rumored financial problems are the reason he committed suicide. The rumors got so nasty that Robin's publicist and business manager were forced to make statements refuting these claims, highlighting a vast real estate portfolio and decades of success in the entertainment industry. But the cat was already out of the bag. To this day we get an email roughly once a month from someone saying that our estimates are false because Robin was broke at the time of his death.
You can already see this happening with Anthony Bourdain. So hopefully this article clears things up a bit and maybe even convinces Page Six to issue a retraction/clarification. Bottom line: Anthony Boudain was worth a lot more than $1.2 million at the time of his death. Fin.