Behind bars and broke? Musician and convicted murdered Phil Spector is calling it quits with his third wife – the con says she's going wild and killing his bank account.
76-year-old music producer Phil Spector may only be allocated $300 a month during his incarceration, but he says that his money is being poured into new homes, cars, jewelry – and even a $350,000 plane. The spending culprit? According to Spector, who has a net worth of $35 million, it is none other than his wife, Rachelle Short Spector.
On February 3, 2003, actress Lana Clarkson was found shot to death in Spector's mansion, the Pyrenees Castle, in Alhambra, California. While the record producer maintained that Clarkson shot herself in an "accidental suicide," Spector's conflicting reports of the incident coupled with his history of violence landed him on trial for murder.
While Spector's legal team argued that Clarkson was a struggling and depressed actress, the producer's former beau, Ronnie Bennett of the Ronettes, claimed that Spector had a history of violence, holding her hostage in his mansion.
Although Spector's initial 2007 murder trial resulted in a deadlocked jury, a 2009 retrial saw him convicted of second-degree murder and sentenced to 19 years to life in the California state prison system in 2009.
His wife, whom he officially tied the knot with while in jail awaiting trial, is a 35-year-old, waitress-turned-pilot. She maintained her husband's innocence throughout his trials, even appearing in court to offer support. But it's when Spector began serving his sentence that he alleges things took a turn for the worse.
In 2009, Rachelle spoke to the media about her unique lifestyle, saying that she never took anything from her husband and that she was instead a hard worker. While Rachelle brushed off the "gold digger" accusations, her husband soon realized that his finances were taking a huge hit in the form of over-the-top spending.
According to TMZ, Rachelle dropped $350,000 of her husband's money on a white and pink N609RS plane. She has previously shared images of the plane – as well as many other lavish luxuries – through her Instagram account.
The list of expensive purchase goes on. Spector alleges that the former Jerry's Famous Deli waitress has racked up bills through expensive jewelry, plastic surgery and cars. When Rachelle isn't driving around in either her new Aston Martin or Ferrari, Spector adds that she has bought not one, but two homes for her mother.
Spector's divorce filing cites "irreconcilable differences." In the wake of the filing, Spector has asked for his daughter with former assistant Janis Zavala, Nicole Spector, to take charge of his finances.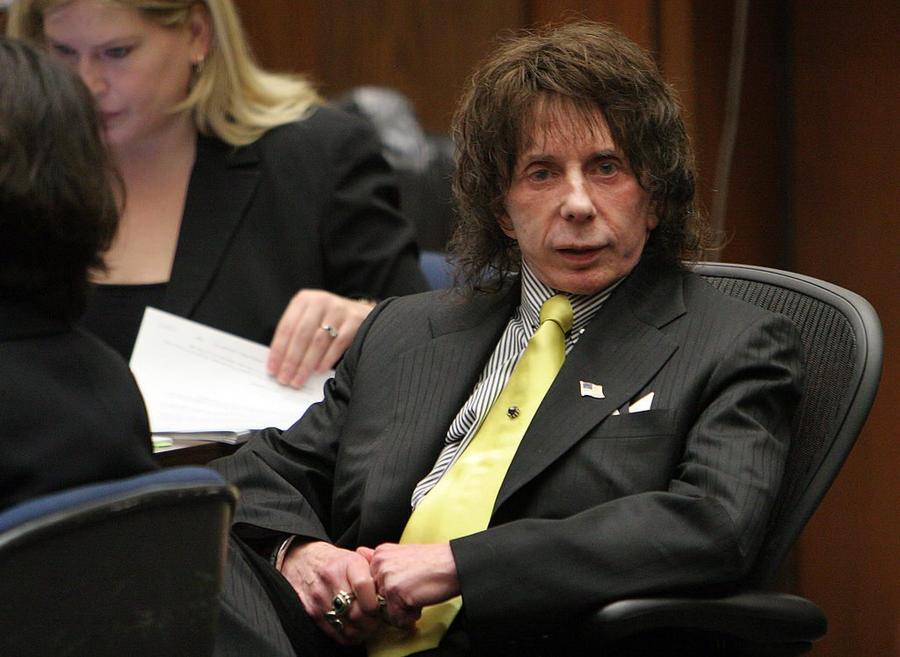 Al Seib-Pool/Getty Images
Spector rose to fame and acclaim as the mastermind who helped pave the way for art rock. He worked alongside such musical acts as The Ronettes, The Crystals, John Lennon, George Harrison and The Ramones. He has been inducted into both the Rock and Roll Hall of Fame (as a non-performer) and the Songwriters Hall of Fame.
Spector will be not be eligible for parole until age 88, in 2028. Rachelle is reportedly looking into purchasing a jet.