Looking for your very own 'piece' of the Prince?
The iconic jacket adorned by the late singer Prince in the 1984 movie Purple Rain could soon be yours – that is, if you can afford it.
The famous piece is not purple, but rather a greyish-black blazer, and it can be all yours if you can cough up at least $6,000.
The Oscar-winning movie that made this auction possible focuses on a young singer (Prince) who is facing a variety of challenges in his complicated life, including surviving an abusive situation in his home and competing with a rival singer, all while nursing a growing romance and his blossoming career as an artist. Prince wears the jacket in question during a romantic motorcycle ride shared with co-star Apollonia Kotero.
The original seller said that she received the sought-after wardrobe piece from her sister, a makeup artist, who was allegedly gifted the coat from Prince himself, while working on the film.
The jacket is estimated to be worth somewhere between $6,000 and $8,000, according to California-based auction house Profiles in History, the company behind the celebrity auction. The jacket is set to be included in its Hollywood Auction 83, with scheduled bidding running from June 29 to July 1.
Singer Prince, net worth $300 million, was famous for his sounds and looks, but also well known for keeping to himself. Much of his personal life was kept behind the curtain and as a result of his introverted nature, little is known of his private world.
As a result of Prince's interest in privacy and protection of his property, there are only a few valuable Prince collectibles on the market, meaning memorabilia collectors may be hard-pressed to find another iconic offering such as this one. Another major selling point for the jacket? The singer's tragic, untimely death.
Prince was found dead in his Paisley Park estate in Chanhassen, Minnesota on April 21, launching an investigation into what led up to his passing. As fans and friends alike mourn the loss of the music icon, his remaining family is tied up with the legal confusion left behind.
Prince's sister, Tyka Nelson, 55, has said that her brother left no will behind, according to court documents. Her filings have prompted a bank to take charge of the singer's estate, as the matter of who will inherit the $300 million left behind by Prince heads to probate court.
Prince left behind no spouses, children or parents, with his only remaining family being his full sister Tyka and half-siblings John, Norrine, Sharon, Alfred and Omar. In the court filing, all of the siblings are listed as Prince's heirs.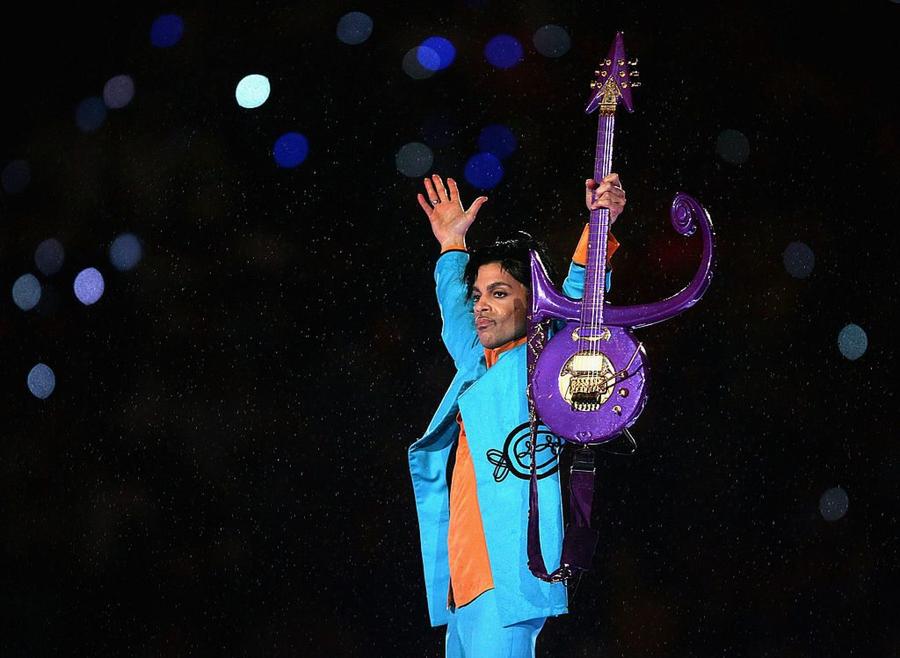 Jonathan Daniel/Getty Images
Prince's jacket won't be the only item up for sale at the Profiles in History auction, however. Michael Jackson fans will have an opportunity to snatch up the late singer's sequined Billie Jean jacket worn during his 1996 world tour. Additionally, his right-handed glove, complete with Swarovski crystals, will also be up for auction.
Accompanying the rest of the unique music property up for auction by Profiles in History, bidders will be able to try their hand at securing Katy Perry's sequined stage bras and an outfit worn by Britney Spears during a "Baby One More Time" performance.