Becoming a Pastor is an honorable life path. Instead of diving into the rat race of modern society, pastors choose to go a different way. Pastors set aside the typical trappings of wealth, and dedicate themselves to helping others. When not giving weekly sermons, a typical pastor probably spends a good portion his or her time raising money for various church causes. For example, maybe the church needs money to fund a relief mission to Haiti. Maybe the church operates a local soup kitchen. Maybe the church wants to support a family that is going through a particularly rough patch. Or… maybe the church's pastor wants to buy himself a $65 million Gulfstream private jet so he can fly his family all over the world in ultimate luxury. WTF?
Creflo Dollar (that's his real last name) is an American televangelist pastor who runs the World Changers Church International, that is based out of College Park, Georgia. He launched the non-denominational church in 1986 out of a cafeteria in an elementary school. Only eight people attended his inaugural sermon.
Over time the church grew. He eventually moved from a cafeteria to a small chapel. He began producing weekly radio broadcasts in addition to giving four sermons every Sunday. His following grew fast. In 1995, the World Changers Church International (WCCI) was popular enough to need a new, larger church. Creflo successfully raised $18 million from his followers to build their current facilities, an 8,500-seat mega-church in College Park, known as the World Dome.
By 2007, the church boasted more than 30,000 active members and brought in $70 million in gross cash collections. In 2012, the WCCI expanded by purchasing the Loews Paradise Theater in the Bronx, a landmark New York City building.
Wealth
For a man of God, Mr. Dollar lives a surprisingly lavish lifestyle. Creflo famously owns TWO Rolls-Royces and several multi-million dollar mansions. He owns a $1 million home in Atlanta, and a $2.5 million home in Demarest, New Jersey. He sold a Manhattan condo for $3.75 million in 2012. We currently estimate Creflo Dollar's net worth to be $27 million.
In June 2012, Creflo was arrested by the Fayette County Sheriff's office for allegedly committing simple assault and battery toward a child. According to the police report, Mr. Dollar's 15-year-old daughter claimed that she had been choked by her father. For his part, Creflo claimed that he was merely "restraining" his daughter who was "acting disrespectfully after he forbade her from attending a party." He also admitted to spanking her. The charges were eventually dropped after Creflo completed an anger management program. Here's his mugshot from the arrest: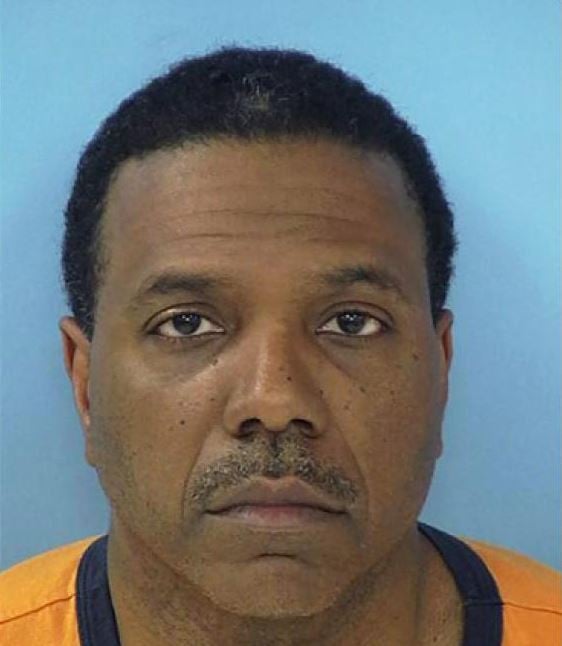 Private Jets
Like most humble and modest men of God, Creflo Dollar travels around exclusively by private jet. Wait… What??? How does this guy sleep at night???
Mr. Dollar doesn't fly commercial. And unfortunately, in March 2014, Creflo's Gulfstream III private jet ran off the runway in the United Kingdom and was badly damaged. What's he gonna do??? God forbid this man of God get on a Southwest flight. So how is Creflo gonna solve this tragedy? By launching a fundraiser to buy a new jet of course!
And not just any random jet. Creflo recently launched a fundraiser called "Project G650 Campaign." This campaign aims to raise $65 million from World Changers Church International parishioners, so Creflo can buy himself a Gulfstream G650. In a video posted to the fundraiser page, Creflo explains that he needs the G650 because "it's the fastest plane ever built by civilian aviation… so that World Changers Church International can continue to blanket the globe with the Gospel of Grace!" Here is the full text describing the campaign: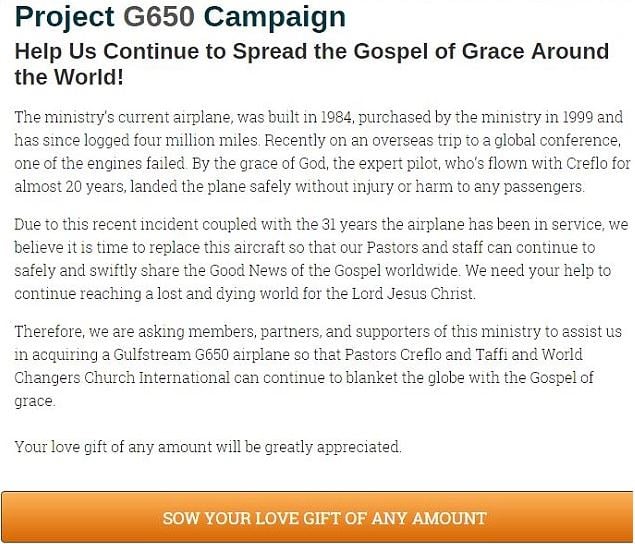 The fundraiser further states that the G650 is necessary because "Believe it or not, there are still millions of people on this planet who have never heard of Jesus Christ and know nothing of his greatness… We need your help to continue reaching a lost and dying world for the Lord Jesus Christ."
Creflo is begging his followers to each hand over a minimum of $300 to make his private jet dreams a reality.
According to aviation tracking registries, Mr. Dollar has used his private jets in the past to travel to vacations in Las Vegas, Miami and Hawaii.  Creflo's wife Taffi regularly introduces her husband at sermons and claims that he "comes face to face with God, like Moses."
I hope Mr. Dollar enjoys his time on earth flying around on private jets because something tells me his afterlife is going to be a SLIGHTLY less comfortable experience.