On July 13, 2015, 50 Cent shocked the world when he filed for bankruptcy. That's almost exactly one year ago from today (technically, it's 360 days ago). And in the last year, there have been countless motions, hearings and legal disclosures that have laid out 50 Cent's financial status in painful detail. Needless to say, it has been an embarrassing and stressful time for the rapper. He was forced to sell his beloved Connecticut mansion to a developer who intends to convert the property into a retirement home. He was forced to admit that most of the claims of wealth he's made during the bulk of his career were totally false. Some would say his reputation has been permanently damaged. It hasn't been a fun process. On the bright side, there's finally some good news!
Earlier today, a bankruptcy judge in Connecticut signed off on a settlement that will enable Curtis Jackson to get his financial future back on track. The settlement will allow 50 Cent to pay $23.4 million to his two major creditors, over the course of five years. In other words, he voluntarily put himself on a MASSIVE payment plan. A payment plan that works out to $4.68 million per year, or $390,000 per month.
50 Cent's attorney just released the following statement regarding the settlement:
"Mr. Jackson is pleased that the Bankruptcy Court approved his plan of reorganization today, less than one year after filing for chapter 11 to reorganize his financial affairs. Mr. Jackson appreciates the fresh start this process provides."
50 Cent acknowledged the settlement via Instagram, where he posted a screenshot of the TMZ headline about the case with the caption:
"Oh, now I remember where I put that money. LMAO."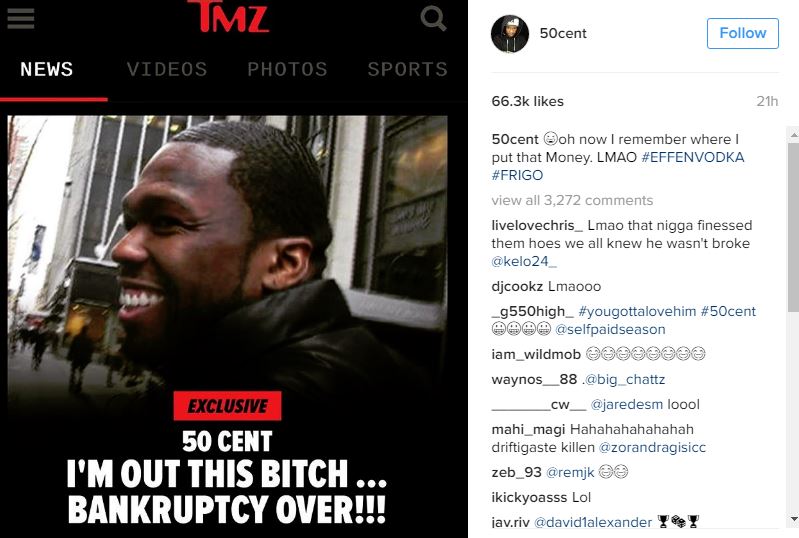 As a reminder, this whole bankruptcy ordeal came to be, after 50 lost two lawsuits that resulted in two very expensive judgments against him.
The first case involved a headphone company called Sleek Audio. Sleek Audio successfully proved that 50, a former partner in the company, stole valuable trade and technological secrets, which were then used to launch a competing headphone company. This lawsuit resulted in a $17.5 million judgment against the rapper.
The second case involved a woman named Lavonia Leviston, a former girlfriend of rapper Rick Ross. Back in 2009, 50 Cent broadcast a sex tape via the Internet, which featured Ms. Leviston, but he did so without her permission. In commentary that he included with the video, 50 Cent referred to Ms. Leviston as a "porn star," among other degrading insults. It's important to note that Ms. Leviston is neither a porn star nor a celebrity, and the sex tape was made solely for her private enjoyment. In courtroom testimony, Leviston said she was "horrified and humiliated" when the video appeared on the Internet. She further stated that "this was something that was done to me. I didn't have a choice. I would never, ever do this to myself."
A Florida jury agreed that 50 Cent was in the wrong to release this tape and disparage Ms. Leviston's name. That jury awarded Ms. Leviston a $5 million judgment.
I'm happy that 50 Cent will finally be able to put this mess behind him, and I really hope he'll be able to pay down his debts. Something tells me we're about to see 50 Cent make A LOT of paid, public appearances and endorse an onslaught of new products. Then again, all he needs is one deal that is half as successful as the one he signed with Vitamin Water,  and 50 will be able to clear his debts instantly!