Earlier today, Irish golfer Rory McIlroy won the British Open. He is now the third youngest person to ever win the British Open, behind Jack Nicklaus and Tiger Woods who won the tournament at 24 and 24, respectively. With the win, Rory walks away with a $1.66 million dollar purse. That brings his total career earnings so far to a tad under $33 million dollars. And it turns out that Rory isn't the only McIlroy who is smiling and making bank today.
10 years ago, when Rory was just 15, his father Gerry McIlroy placed a £200 pound wager that his son would win the British Open before his 26th birthday. At the time, Rory was a teenage golf prodigy who was still three years away from turning professional. Three of Gerry's friends went in on the wager, bringing the total bet up £400 pounds (roughly $683 USD). The bet was so far fetched that the bookie who took the other side gave it the biggest odds allowable at the establishment.
As we mentioned in the first paragraph, Rory just won the British Open. He is 25 years old.
So not only is Rory taking home $1.66 million dollars, thanks to the win today, Gerry McIlroy and those three true-believer friends will be splitting $342,000 from their decade-old bet. Just to repeat. That's $342,000 from a $680 bet (USD). Somewhere in Belfast, Ireland (the McIlroy's hometown) there is a bookie who is probably drowning his sorrows in a lot of Guinness and Jameson. Here is a photo of Rory and his parents with the trophy, followed by a screenshot of a tweet sent out by a reporter who was able to confirm that the bet happened and is still valid: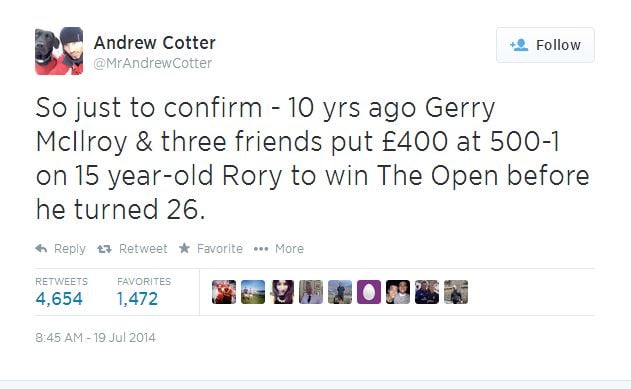 And even though his son is one of the highest paid athletes in the world (with a personal net worth of $50 million dollars and a 10-year $75 million dollar Nike contract) $341,000 won't go unappreciated by Rory's parents. Both parents had to hold down multiple jobs in order to support Rory's early golf years. At the time he placed the bet, the elder McIlroy was working 100 hours a week as a bartender. In 2009, Gerry reflected on those early years:
"From 12pm to 6pm I was a bartender at Holywood Golf Club, then, after going home for tea, I'd return to the sports club from 7pm-midnight to work behind the bar. I am a working-class man and that's all I knew – to get the money we needed for Rory to be able to learn and compete at golf."
Those days are long gone but winning this bet still is obviously very special. TO thank his parents for their sacrifices, Rory recently bought them a nice little mansion in the suburbs. In Rory's own words:
"I'll never be able to repay Mum and Dad for what they did, but at least they know they'll never have to work another day. I'll do whatever it takes to look after them."
Oh, and in case you were wondering, Tiger Woods finished in 69th place (he he he). Not kidding.