Atherton, California is the most expensive zip code in the United States. Number 1 by a long shot. Atherton manages to achieve that rank every year, year after year. In 2022 the AVERAGE price of a home sold in Atherton was $9 million. The country's second most expensive zip code, Sagaponack, NY (the Hamptons), had an average home sale price of $7 million. There are a total of 2,549 homes in Atherton, housing roughly 7,000 residents. The vast majority of single family homes were sub-divided decades ago in a grid that requires each one to have one acre minimum of property. Many lots are closer to two acres.
In Atherton, vacant lots sell for millions of dollars.
Don't believe me? Here are two photos of a dilapidated Atherton home that sold in January 2017:
What you see in the photos above was a 1 bedroom, 1 bathroom, 1,600 square foot home. To be fair, the above home was situated on a totally flat 1.6 acre lot in what you now know is the most expensive zip code in America. But even still, how much would you guess the above home sold for? Would you believe me if I told you…
$5.25 million!
Considering its ideal location and totally flat 1.6 acre lot, the above home was a developer's dream. And that's exactly what happened. The buyer of the above property proceeded to construct a 17,761 square foot, three-story, lavish gated mansion.
And in December 2020 the developer sold the home for…
$30 million
And the buyer was…
Steph Curry
This was actually Steph and Ayesha Curry's second $30 million newly-constructed Atherton mansion. They paid $31 million for a nearby home in 2019 and sold it for a very slight ($15,000) profit in September 2021. But to repeat, their current mansion was purchased in December 2020 for $30 million on the dot:
A look at Steph and Ayesha Curry's new $30M mansion in Silicon Valley:

▪️ 17,800 sq. ft, 2 acres

▪️ 7 BR, 9 BA

▪️ Movie theater

▪️ Full bar, wine cellar

▪️ Pool, sundeck pic.twitter.com/nFQ5H23Tvf

— Front Office Sports (@FOS) December 5, 2022
Not In My Backyard
When someone is described as a "NIMBY" ("Not In My Backyard"), it's almost always derogatory. And almost always, the NIMBY is fighting a development that is many blocks or even miles away from their actual backyard.
In Steph's case, the term NIMBY is quite literal.
Over the last couple of years, local residents – including the Currys – have been fighting a proposed development that would result in the construction of 16 town homes on a property that adjoins the back of Steph's mansion. Four of the town homes would be reserved for low income residents.
To illustrate, below is a view of the area in question shot from above via Google maps. That massive property in the center/right (minus the tennis court) is the Curry estate. You can see their enormous lawn and black-top basketball court surrounding a resort-like pool and pool house.
I've outlined in red the location of the proposed 16-unit development: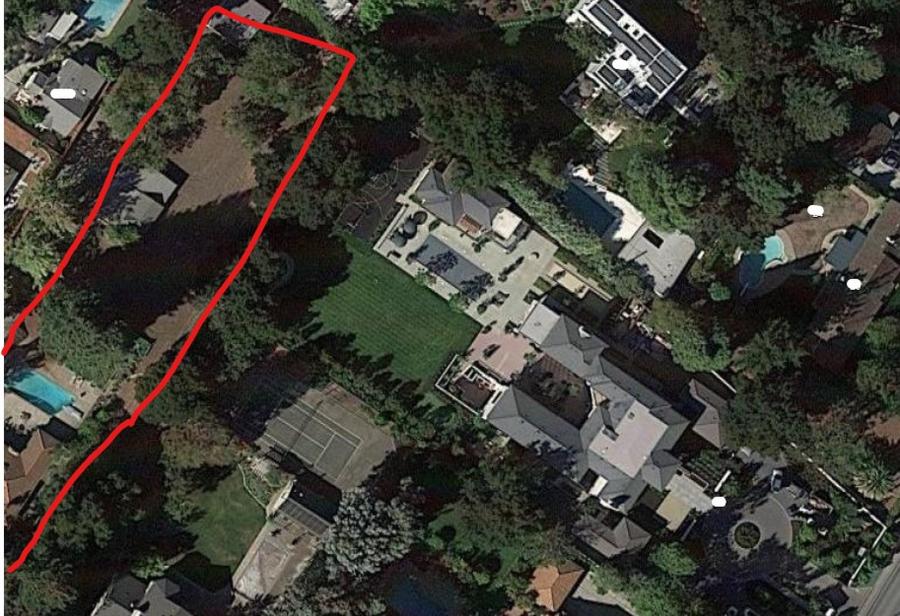 What is "low income" in Atherton?
So ya… hooray for low income housing! But also consider this –
In California, "low income" status is a calculation of the respective county's median income. The median income in San Mateo County, where Atherton is located, is $166,000. Not surprisingly, that's the state's highest median income.
According to the state's most recent numbers, a single person living in Atherton is considered low income if he or she make less than $104,400 per year. For two people, the number is $119,300. A family of four that has combined total income of $149,100 would be considered so wretchedly poor in Atherton that they would qualify for special subsidized housing where the property is permanently fixed at below market rates in the property's deed. Meaning the property can't ever be sold or rented for a normal supply+demand value.
What Would You Do?
Put yourself in Steph's shoes. First you adjust to the fact that you're wearing Under Armor shoes, which would certainly be a strange new feeling. Next, imagine you've just dropped $30 million on a mansion which is adjoined by a modest single-family home occupied by a little old lady. You move in, the little old lady dies and now you're about to have dozens of lookie-loo neighbors peering straight into your backyard from their upstairs bedrooms. That would be a bit of a bummer.
Perhaps not surprisingly, Steph has not been quiet on the matter. In a January 18 letter to the town, Steph Curry wrote the following:
"We hesitate to add to the 'not in our backyard' (literally) rhetoric, but we wanted to send a note before today's meeting. Safety and privacy for us and our kids continues to be our top priority and one of the biggest reasons we chose Atherton as home… We kindly ask that the town adopts the new housing element without the inclusion of [address removed]. Should that not be sufficient for the state, we ask that the town commits to investing in considerably taller fencing and landscaping to block sight lines onto our family's property."
Actually, that's a fairly reasonable response. He's saying… 'Please don't do this, but if you must do this, please build us a huge fence and lots of landscape.'
By comparison, here's the letter venture capitalist Marc Andreessen sent to the town on the same issue:
"Subject line: IMMENSELY AGAINST multifamily development!
I am writing this letter to communicate our IMMENSE objection to the creation of multifamily overlay zones in Atherton … Please IMMEDIATELY REMOVE all multifamily overlay zoning projects from the Housing Element which will be submitted to the state in July. They will MASSIVELY decrease our home values, the quality of life of ourselves and our neighbors and IMMENSELY increase the noise pollution and traffic."
Keep in mind Marc is a billionaire venture capitalist. Perhaps more interestingly, his wife Laura Arrillaga-Andreessen is a billionaire heiress.
How did Laura's father John Arrillaga make his billions? Real estate development.
In the 1960s John and a partner bought up all farmland surrounding Stanford University for what we would consider pennies today. They proceeded to develop that farmland into an area that today is known as SILICON VALLEY. Perhaps you've heard of it. It's where his future son-in-law would go on to make a fortune, first as the creator of Netscape and more recently as a venture capitalist. FYI, Marc and Laura own a $177 million mansion in Malibu, the most expensive home ever sold in California and the second most expensive home ever sold in the US as of this writing.
It's Happening
On Tuesday night the Atherton city council unanimously approved the Curry-adjacent development. They didn't have much of a choice. Every city in California is legally required to follow a state housing expansion plan that, for Atherton, means they need to build 348 new units within the next eight years.
Unclear if they will be building him a giant wall. My guess is the Currys will be paying for and constructing that wall at their own expense. Or they'll be selling soon.