Maine gives America lots to talk about, including its seafood industry, landscape and literary hero Stephen King. But for those who need to own a getaway retreat and are up for a bargain, the Grace Estate is an option that may really get their attention. The landmark residence, along the Penobscot Bay in Maine, is on the market and offers ample tranquility and all the comforts of grand, luxurious living for $9.5 million.
Grace Estate is elegance itself, with a design theme straight from the Renaissance Revival. Set on a peninsula spanning 8.8 acres, the main residence was built in 1918, and offers virtually endless water views from almost every window. It also has 3,500 feet of shore front. Christies's International Real Estate describes it as a year-round cottage, but this is unlike any modest cottage most people have ever seen!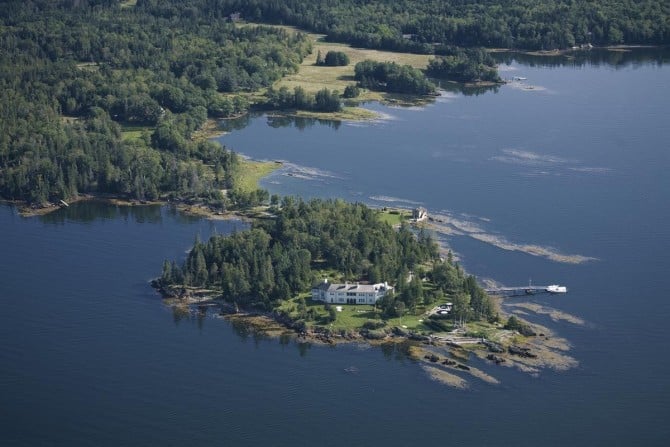 Of course, all houses – the well-designed ones, anyway – easily blend with their surroundings. Grace Estate is included in that group of grand homes. Its wide staircases, and tall, cathedral-like windows all seem to invite the outdoors inside, while maintaining elegance and beauty at every turn. It has hardwood floors throughout the first and second floors. It offers eight bedrooms, including luxurious master quarters with a large bay window and sitting area, and one of the house's many fireplaces.  A kitchen leads to a large and fully-equipped butler's pantry, which transitions to a formal dining room that seats ten.
But Grace Estate possesses more than just inner beauty. There is, of course, an in-ground saline pool that is tucked away in a lush garden. In addition, the home has a backyard golf course with a sand trap, which offers the owner and their guests the opportunity to practice driving, chipping and putting to improve their score. If the eight bedrooms are not enough to accommodate all guests visiting at any given time, there's also a guest house on hand to offer additional space along with even more comfort and privacy.
It is no wonder that Grace Estate was once featured in Architectural Digest. Just one question remains: At $9.5 million, who is going to say no?!