It appears one home just isn't enough for singer Lana Del Rey.
American singer-songwriter Lana Del Rey's bank account is short $5.87 million, after she bought not one, but two homes on adjoining Hollywood Hills lots. "More is better" was certainly the motto when Del Rey snatched up a $3.77 million mansion, following a $2.1 million closing on the single-family home next door.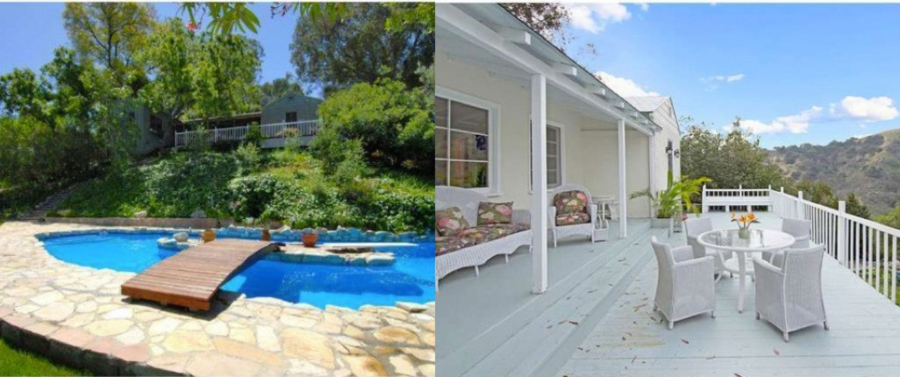 TheMLS.com
The first of Del Rey's newest real estate forays is this three-bedroom, two-bathroom single-family abode priced at $2.1 million. Although it is undoubtedly smaller than the large neighboring mansion the singer later nabbed up, this 2,829 square foot home boasts a lagoon-inspired pool, a seven-car driveway and its very own guesthouse.
While Del Rey's first purchase doesn't win out in the size department, there's no doubt that the character and stunning amenities (like the view above) make it the perfect touch to the singer's west coast compound, one offering a stunning private view of the Hollywood Hills. Another unique touch? The grounds are littered with an orchard of fruit trees, including almond, fig, guava, lemon, lime, orange and tangerine.
However, despite the unique layout and amenities offered up in Del Rey's first Hollywood Hills purchase, the home-buying bug hadn't quite yet run its full course until Lana checked out what was next door…
The "Summertime Sadness" singer's biggest purchase in her new mega compound is this six-bedroom, five-bathroom hilltop mansion. Coming in at a final price of $3.77 million and sitting at 5,432 square feet, her latest estate is double the size of her first Hills transaction. Described as an architectural masterpiece, Del Rey's compound rounds out the home – and likely the "main" property of the private hilltop hideaway – boasting a gigantic master suite, dual staircases, four garages, and a sprawling yard complete with a pool and spa.
Del Rey has been said to have splurged on this purchase just weeks after securing the neighboring property. Complete with stunning architecture, custom windows, glass doors and exposed cross beams, the accent piece of Del Rey's new private oasis/compound was recently named Home of the Month by The Wall Street Journal.
The recent property buy up of Del Rey's – while seemingly rare – is akin to another celebrity real estate compound move. Reality star and model Kylie Jenner recently bought up the mansion adjacent to her $6 million home in the same area of Los Angeles just this summer.
Del Rey's recent multi-million dollar purchases aren't the singer's first forays into the world of real estate. In fact, some may consider them simply padding to her portfolio. The 31-year-old also calls both a $2.5 million pad in L.A.'s Hancock Park and a $3 million Malibu beach escape "home," despite her latest real estate roundup.
Del Rey, born Elizabeth Woolridge Grant, rose to prominence in 2011 when the music video to her single "Video Games" went viral. In 2012, the $8 million singer's major label debut, Born to Die, peaked at number two on U.S. charts. In 2015, Del Rey was noted the most-streamed female artist on Spotify in the United States and the fourth most-streamed worldwide.