You might not think that Mickey Rooney, a star in just about every major entertainment medium there was, and Rick James, who sang hits like "Superfreak" had a lot in common, but they both liked traditional architecture. A 7,555-square-foot home in Hollywood Hills with Hollywood pedigree just sold for $5.7 million.
Luxury abounds in the two-story home that stands behind a gated driveway, where movie and television actress Amy Yasbeck also lived for a number of years. The open floor plan on the first level has a couple of sitting rooms, fireplaces in the main parlor and in the formal dining room, and a large kitchen that will make any gourmand feel right at home. There is a spacious den that can easily double as the home theater, and French doors that lead to a spacious landscaped and brick paved patio fit for people who are serious about entertaining.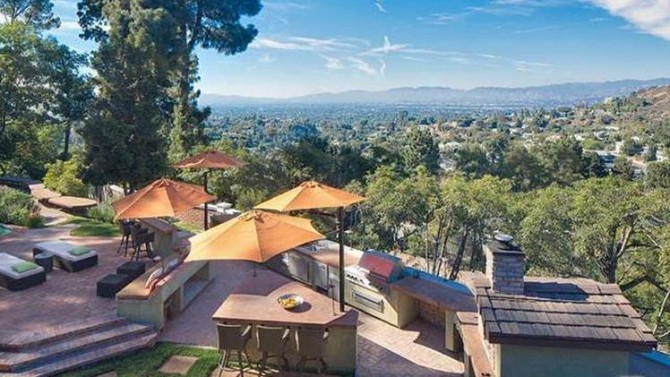 The patio area has a fully equipped outdoor kitchen, including a brick oven, a dining area with enough space for a full dining room table, and a parlor lounge with a fire pit. There are several pool features, including a full-sized swimming pool, a hot tub with a waterfall element enclosed by curtains, and a meditation pool. Gamesters – the unplugged kind – can challenge each other on the life-size chessboard, too. The property also has a cottage-style guest house.
Upstairs, in the main house, there are several bedrooms, but it's the master suite that steals the show. A fireplace keeps the apartment – lit by a crystal chandelier – cozy in the winter, and it has its own full bathroom, with a hot tub. It also has a private terrace, where its new owners will no doubt take in sweeping views of downtown Los Angeles.