Classic elegance abounds in this 24,000-square-foot, deco-inspired mansion where "The Gambler" crooner Kenny Rogers once lived. And the lucky buyer got it for a relative bargain at $46.4 million.
How can $46.4 million be a bargain? Especially when you consider that the home sold in 2010 for $12.2 million? Well, as you are about to learn, this is a very unique property…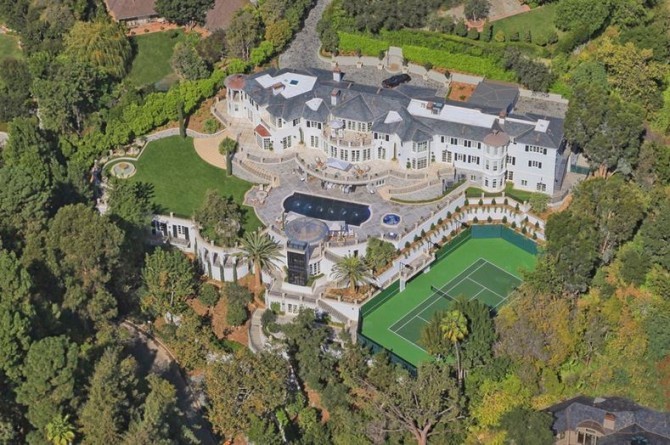 Hidden from street view by a long driveway, 616 Nimes Road in Bel Air has two formal gated entrances. The lucky buyer, undisclosed, got the entire house in "turnkey" condition, elegant furnishings and all. And judging by the features of the house – too numerous to mention all here – they are people who like to entertain. And boy is there a lot to appreciate in this sprawling estate created in 1938 by famed architect Paul Williams.
The front of the estate is a study in understated, classic beauty, and once you get past the front doors, it's easy to imagine the parties that kick off in the vast grand foyer. After that, the big welcome continues through the three living rooms, seven fireplaces, a billiards room, and a 12-seat theater.
The ballroom and party room has an attached guest suite. Overnight guests could also take advantage of a hot tub and fire pit, and large dry sauna. And if a couple of them get into an epic tennis match ala Pete Sampras and Andre Agassi, they can play into the night thanks to stadium lights. The outstanding pool area will also wet the appetites of future guests. It also features a glass elevator
So, about that bargain! The home changed hands again in 2010 for $12.2 million, going from L.A. socialite and author Nancy Davis, to owners who expanded it, but did not spend as much time in Los Angeles as they thought they would. Hence, we have the recent sale. It was actually listed at $65 million, so it turned out to be a win for the present buyer.