While his tricks are usually in the field of illusion, magician David Copperfield has set a real estate record for the city of Las Vegas by handing over $17.5 million for his new home.
The purchase – no matter how pricey – makes perfect sense for the illusionist, as he currently serves as the headliner at Sin City's MGM Grand on the Strip.
Copperfield, whose line of work has earned him 11 Guinness World Records, can add another record to the list with his bank-clearing buyout. The Greater Las Vegas Association of Realtors announced that Copperfield's recent home purchase sets a record in citywide real estate sales, beating out the $17.37 million handed over for a mansion in North Las Vegas' Shadow Creek Golf Club in 2007.
According to the Review Journal, Copperfield and his fiancé, Chloe Gosselin, nabbed the nearly 1.6-acre piece of property at the end of June. Tucked along Summerlin's Enclave Court, the "magical" home is just as spectacular as its new owner. Clocking in at 31,000 square feet, the gated home comes with a full-service spa, a golf simulation room, and even its very own nightclub.
Copperfield's personal real estate broker, Ivan Sher, said that the couple had been paying close attention to the Vegas market for years in hopes of finding the perfect fit. In fact, it is rumored that the magician's new pad wasn't even on the market when he approached the seller, health care executive Kevin Hooks, about making a deal – and sure enough, $17.5 million must have been the magic number.
Positioned in one of Las Vegas' most exclusive gated communities, this pretty piece of real estate was first bought – land only – in 2005 for $2.5 million. Six years later, design firm Swaback Partners of Scottsdale, Arizona crafted the home that would break real estate records across the city.
When he's not awing audiences with his spotlight-stealing talents, Copperfieild, his fiancé, and their daughter are sure to enjoy the unique set of amenities found within their multi-million dollar home. The four-story home, served by two separate elevators, offers the best of indoor and outdoor luxury that money can buy.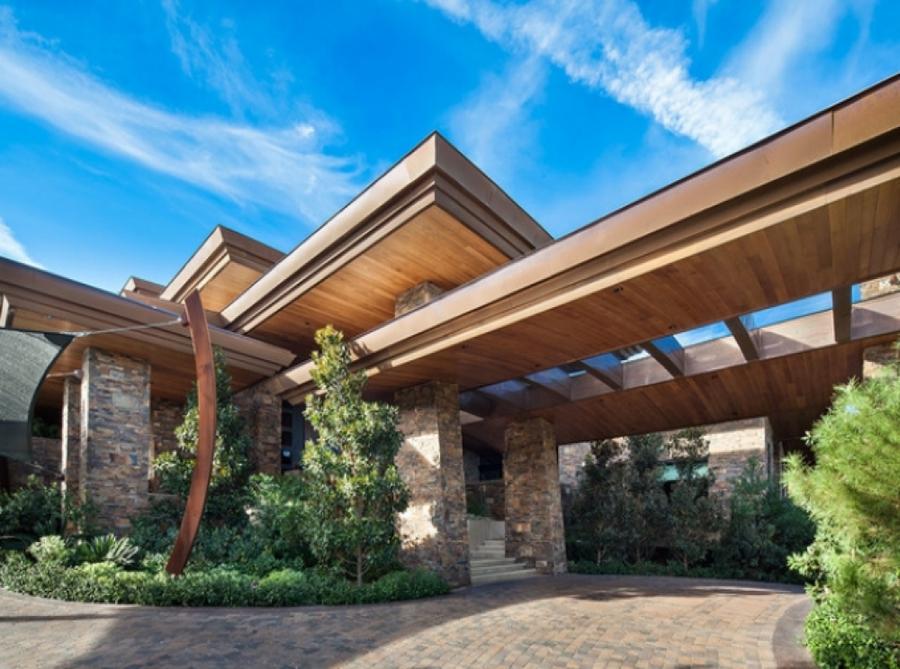 KuDA Photography
While access to the exclusive community is limited, estate listings show that the home comes jam-packed with enough to keep even an illusionist entertained. If the indoor golf simulation studio ever gets old, the home also comes with a private movie theater built for nine, gym, wine cellar and nightclub with both a bar and a large dance floor. Additionally, in salute of the sought after Nevada rays, the Enclave Court home boasts a resort-style infinity swimming pool and a Zen garden for the ultimate relaxation.
With a bag of tricks that seems to never end, David Copperfield has built an empire on his brand, consistently ranked as one of the top-grossing entertainers of all time. Copperfield may owe the start of his $900 million career to his grandfather, who taught him his very first magic trick.
Copperfield also owns a Manhattan penthouse and 11 Bahamian islands.