In the immortal words of John Patrick Mason (as played by Sean Connery) from the classic 1996 movie The Rock: "I hope you're insured!"
Christmas came early then disappeared almost instantly for a motorist in Colorado over the weekend. The motorist in question walked into his local Dodge dealer and purchased his dream car: A lime green Dodge Challenger Hellcat. The Hellcat has only been available to the general public for less than a month and this was the very first such model to be sold in Colorado. This car comes packed with 707 horsepower and races up to a top speed of 204 MPH. By comparison, a NASCAR vehicle only has around 50 more horsepower. The base sticker price for this beast is $60,000. Here's what the car would have looked like in the showroom:
Definitely a head turner, right?!
Unfortunately, this is what the car looked like ONE HOUR after leaving the dealership: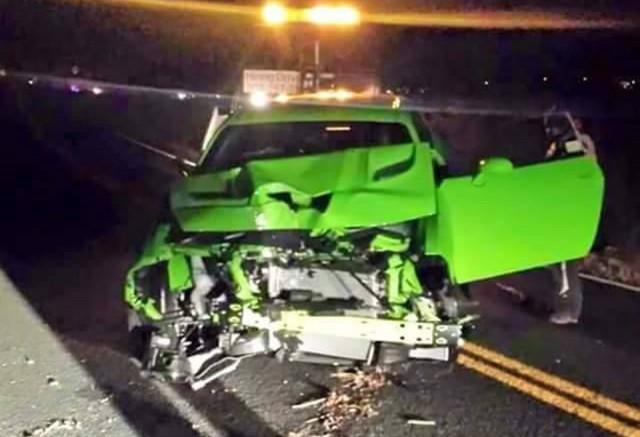 The good news is that no one was hurt after the driver lost control, slid off a highway then slammed into a tree. The bad news is that the one-hour-old car was completely totaled.
As John Mason said, I hope you're insured!
***Update***
While crashing a $60,000 car one hour after leaving the lot is really bad, one of our Facebook fans just sent us a story that is actually much much worse. Just a few weeks ago in Dallas, a 27 year old man was out driving 2015 McLaren P1. The $1.2 million car was just two days old. After driving over a wet spot, the 27 year old lost control and slammed into a guard rail. He and his 24 year old passenger (a female who he was likely trying to impress), were taken to Parkland Hospital (where JFK was taken) with serious but non-life threatening injuries.
The McLaren P1 features a turbo-charged V8 engine that generates over 900 horsepower and can hit a stop speed of 217 MPH. Only 375 P1s will be produced. Pour out a little liquor 🙁