As you may have heard, Jeff Bezos and his wife MacKenzie are divorcing after 25 years of marriage. This is by no means the first time a billionaire has gotten divorced, but it is definitely the first time for the richest person on the planet, with a current net worth of $136 billion, has gotten divorced. To make matters extra-complicated, Jeff and MacKenzie married in 1993. That's one year before he founded Amazon. By all accounts, MacKenzie was extremely supportive in Jeff's ambitions to found what would eventually grow into one of the largest companies on the planet. She literally drove him across country as they moved to Seattle from Boston. Jeff wrote Amazon's business plan in the passenger seat. MacKenzie has been by Jeff's side from well before he was a billionaire or even a millionaire. There is no prenup. Not that a prenup would even matter in a situation where the wealth and assets were all acquired after the marriage.
So what happens when a billionaire gets divorced without a prenup? Here are two examples that illustrate what Jeff is potentially about to experience:
Example 1: Harold Hamm
In 2012, Harold's wife Sue Ann filed for divorce after 25 years of marriage. At the time of the filing Harold's 76% stake in a company called Continental Oil gave him a paper net worth of $20 billion. When they first married, Harold was worth around $50 million. Since there was no prenup, early speculation predicted that Sue Ann would be entitled to $8-9 billion.
The divorce raged for 2.5 years. Harold's lawyers argued that he was already a wealthy and successful businessman before marrying Sue Ann and would have earned the $20 billion even if they had never met. Sue Ann's lawyers argued that the $20 billion fortune Harold eventually earned was the result of his "active efforts" and only happened because of his active hard work that she supported and nurtured. Had Harold slipped into a coma back in 1988, would he still be worth $20 billion in 2012? That was the central question of the case.
Then there was the question of whether or not the company Continental would be secure with a large portion of its stock going to Harold's ex-wife. If she was awarded $8-9 billion, there's no way Harold could pay that in cash. He would have been forced to transfer half of his shares in the company to Sue Ann, around 38% of the total shares. Harold desperately wanted to keep his 76% majority so he could maintain control of the company's operations and decisions.
In the end, an Oklahoma judge ordered Harold to pay Sue Ann $1 billion. It was probably a fair compromise and an amount "low" enough that Harold could liquidate a billion dollars worth of his shares while staying will above 51% majority. The judge gave Harold two months to pay Sue Ann $300 million. The remaining balance of $627 million could have been paid in monthly installments with interest.
Harold did not go with the payment plan option. In January of 2015, just three months after the settlement was reached, Harold decided he wanted to pay the full amount immediately. How did he make payment? By check of course! Here is a copy of said check for your enjoyment: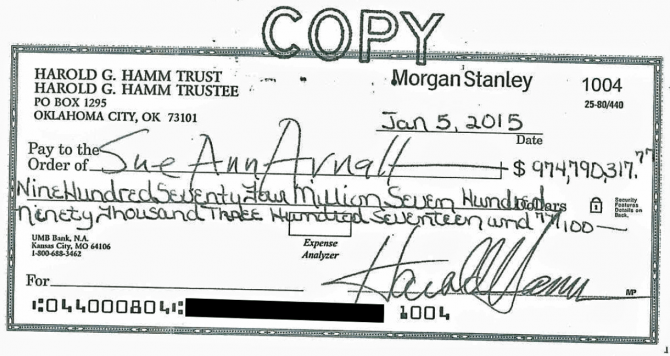 Example 2: Steve Wynn
Steve and Elaine Wynn loved each other so much they decided to marry not once, but twice! Unfortunately they also divorced twice. Their first stretch of marriage lasted from 1963 – 1986. The second stretch lasted from 1991 – 2010. By the time they divorced the second time, Steve's public company Wynn resorts was extremely successful and had turned the couple into multi-billionaires. Complicating matters, they did not have a prenup and Elaine was actually considered a co-founder of the company. Steve was the technical "holder" of 20% of the company's shares at the time of the divorce.
Similar to Harold Hamm, Steve did not want to liquidate a huge portion of his own equity to pay Elaine a multi-billion dollar cash settlement. He was fine with giving her half of his equity, 10% of Wynn's total shares, but he wanted to ensure Elaine never dumped her stake all at once or sold to a rival. He also didn't love the idea of giving her an equal vote in the daily operations of his company.
Somehow Steve got Elaine to agree to never sell her shares and to have less voting power. Elaine would own roughly $2 billion worth Wynn stock.
For income she would live off the company's annual 3% dividend which, in a typical year, resulted in a $60 million payday for the former Mrs. Wynn.
According to legend, the Wynn's arrangement turned sour in 2014 after Elaine went to Steve and asked permission to sell around half her stake. Why was she looking to sell? According to rumor, she wanted to buy the LA Clippers which was for sale after owner-at-the-time Donald Sterling's racist tapes were made public. Elaine, who is a basketball fanatic, was supposedly putting together an all-female team of investors, that included Oprah Winfrey, to buy the NBA franchise.
When Elaine approached Steve, he supposedly denied her request.
Elaine was not happy. She sued the company and Steve. She accused both of reckless spending and covering up years of sexual harassment allegations against Steve. Elaine was ultimately successful in ousting Steve from the company when the harassment allegations hit the front page of every newspaper in America.
Steve was forced to liquidate his entire stake in Wynn which left Elaine as the company's largest individual shareholder. She hasn't sold her stake, though she could if she wanted to now. Unfortunately she never got her NBA team. The Clippers went to former Microsoft CEO Steve Ballmer.
What About Jeff and MacKenzie?
It's very possible that all of these questions have already been hashed out by an army of lawyers. Or maybe not? Because we're talking about so much money and such a large stake in a public company, we're almost certainly going to learn the very gory details of how Jeff and MacKenzie Bezos plan to divide their empire. Will she end up with an 8% stake in Amazon (half of Jeff's 16%)? Will she have full voting power? How much of the settlement will be cash to satisfy the value of their shared assets? Who gets which house? Will MacKenzie get her own $65 million private jet or just full access to Jeff's?
We will certainly keep you posted as we go forward!