A lot of people don't realize that, unlike the NFL, MLB, NBA and pretty much every other major sports organization on the planet, NASCAR is a privately-owned business controlled by ONE family. The France family. Bill France Sr. founded NASCAR back in 1948 and ran the organization until Bill Jr. took over in 1972. Bill Jr. steered NASCAR from 1972 until his retirement in 2000. Bill Jr's son Brian France has been CEO since 2003. Brian, who has a paper net worth of $1 billion, has arguably not been the best leader. Ratings are down, attendance is down and generally speaking NASCAR is at its lowest popularity point in the last few decades. Things have gotten so bad that the France family has actually been looking to sell the business. Unfortunately, thanks to an unfortunate incident out in the Hamptons over the weekend, Brian France may have just cost his family an enormous amount of money. Let me explain…
On Sunday evening at 7:30 pm, police in Sag Harbor, NY pulled over a 2017 Lexus. FYI, Sag Harbor is an extremely wealthy area of the Hamptons where stars like Billy Joel have houses that cost $50-100+ million. So, police pull this Lexus over for blowing through a stop sign. As it turns out, the driver of that Lexus is an extremely intoxicated Brian France. He reportedly "bombed" the field sobriety test and was found to have a blood alcohol level TWICE the legal limit. To make matters worse, police found oxycodone pills in his pocket for which he did not have a prescription.
Brian was arrested and booked for DUI and criminal possession of a controlled substance in the 7th degree. During the arrest he reportedly tried to talk his way out of trouble by name dropping powerful friends including President Donald Trump. The name dropping did not work and Brian spent the night in jail.
When the dust cleared in the morning (today), Brian announced he was taking an indefinite leave of absence. He released the following statement:
"I apologize to our fans, our industry and my family for the impact of my actions Sunday night. Effective immediately, I will be taking an indefinite leave of absence from my position to focus on my personal affairs."
Effective immediately, Brian's uncle Jeff assumed control of NASCAR as Chairman and CEO.
Brian France's arrest could not come at a worse time for NASCAR and the France family. Back in May, the family began exploring a sale of NASCAR through investment bank Goldman Sachs. It was a tough sell even before today's arrest. There are essentially no more major stars in NASCAR, Millenials have not caught the NASCAR bug and people just seem to not have the attention for the sport anymore. This year's Daytona 500 was the lowest-rated broadcast in the sport's history. TV viewership is down 20-40% in most markets compared to 2016.
Over the past decade, three public companies that own tracks that host NASCAR races have reported a 54 percent decline in attendance revenue. Sponsors, an integral part of NASCAR, are also leaving. Sprint, Home Depot, and UPS are already gone, with Lowe's following suit after this year. Monster Energy signed a bargain $20 million deal to sponsor the main cars this year, though they're likely out after 2019. The previous sponsor was paying $75 million per year.
So what is NASCAR worth? 
As we mentioned earlier, around 20 France family members own 100% of NASCAR. During a divorce proceeding in 2005, Brian France was forced to disclose his net worth. The number he gave the court was $554 million, of which the vast majority was presumably the value of his stake in NASCAR. Today he is worth $1 billion. The family at large's net worth has previously been estimated at $5 billion. Essentially, most analysts at one time believed NASCAR was worth $5 billion. In 2017, Formula 1 sold for $8 billion, so it's a reasonable comp. But who would pay $5 billion for a company that is experiencing such a major downturn?
Then the CEO gets arrested for DUI and illegal drug possession.
ESPN writer Darren Rovell believes Brian's DUI cost the family a "couple hundred million":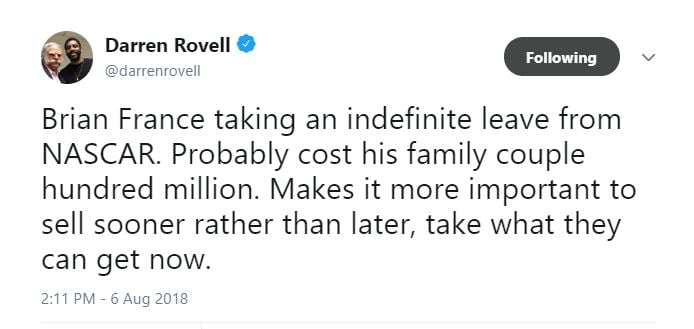 Ouch. Something tells me that Brian France isn't going to have a lot of friendly faces staring back at him at Thanksgiving this year.