Wow. And it's finalized. A mere 85 days after announcing their separation, Jeff and MacKenzie Bezos have reached a deal to split what is currently the largest private fortune on the planet. At the time they announced their divorce on January 9, Jeff was worth $136 billion. Thanks to a nice little rally in Amazon over the last few months, today his paper net worth is $150 billion. Jeff and MacKenzie had been married for nearly 25 years, since well before he was the richest person in the world, so there had been talk that she might walk away with a full 50% of Jeff Bezos' net worth. In theory that could have been a $60-70 billion payout which would have absolutely shattered all divorce records by a mile. Well today we have the final numbers!
MacKenzie just announced over Twitter that she and Jeff have finalized their divorce and she will be given $35.6 billion worth of Amazon stock.
With the settlement, MacKenzie instantly becomes the fourth-richest woman in the world behind heiresses Francoise Bettencourt Meyers (L'Oreal), Alice Walton (Walmart) and Jacqueline Mars (Mars candy).
Even after losing $36 billion, Jeff's remaining $114 billion net worth is still enough to keep him as the richest person in the world. Bill Gates trails Jeff by $14 billion, at $100 billion.
According to an SEC filing, MacKenzie will own around 4% of Amazon's outstanding shares, though she has agreed to let Jeff retain voting control over her stake. Jeff will keep around 75% of their former combined stake. MacKenzie is now Amazon's third-biggest shareholder behind investment fund Vanguard and Jeff.
MacKenzie also relinquishes any right to The Washington Post and Jeff's space exploration company Blue Origin. It is unclear as of this writing how the couple is splitting their collection of jets and homes.
Unlike many other high-profile divorces where one party arguably earned the fortune on his or her own or before the couple got together, this represented a different example. When MacKenzie met Jeff, he was a mid-level investment banker. She was instrumental in supporting Jeff in those early years as he moved from Boston to Seattle with nothing more than an inkling of an idea that would eventually launch an empire. Many people thought this would be a clear example of a spouse deserving at least 50% of their combined assets.
That last point made some investors nervous. What would Amazon look like with exes maintaining equal control of the company? What if MacKenzie decided one day to dump all of her shares on the open market? Or, perhaps more realistically, what happens if MacKenzie used her shares to vote against everything just to spite her ex? Fortunately for everyone, Jeff and MacKenzie seem to have come to a very amicable resolution. Take a look at the messages they both just posted to Twitter: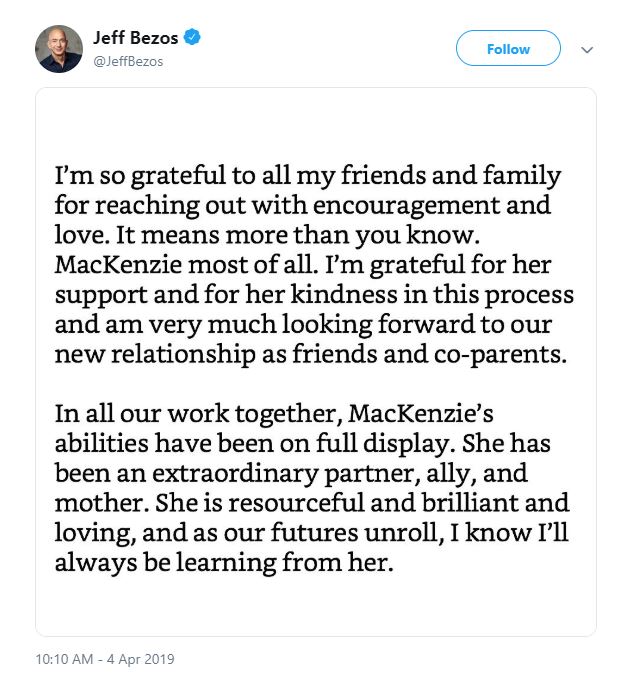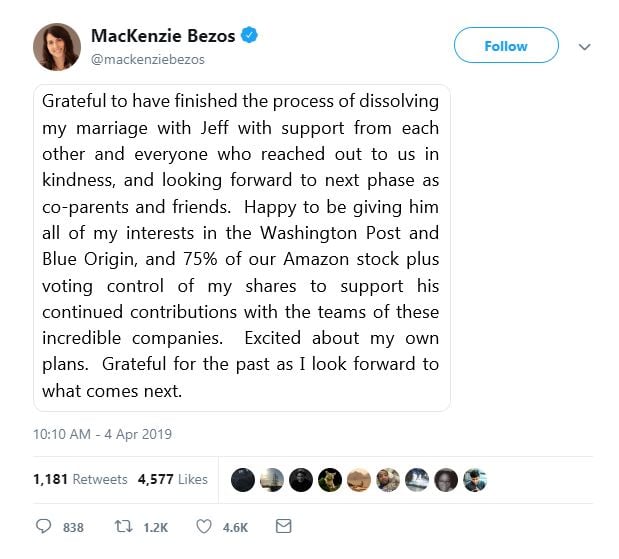 In case you are wondering, $36 billion is BY FAR the largest divorce settlement of all time. Prior to the Bezos settlement, most people would agree that Rupert Murdoch held the record for most expensive divorce from when he paid his ex-wife Anna $1.7 billion. We wouldn't have been 100% certain that Rupert's settlement was actually the largest of all time because we never found out the exact final amount that Russian billionaire Dmitry Rybolovlev paid to his ex-wife Elena. At one point a Swiss court ordered Dmitry to pay Elana $4.5 billion, which was 50% of the value of his fertilizer business. After seven years of fighting, Dmitry and Elena ultimately settled on undisclosed terms, likely far far far less than $4.5 billion.
It doesn't matter anymore however! Jeff Bezos now officially holds the titles for richest person on the planet AND most expensive divorce in human history! Two very impressive accomplishments.
Congrats Jeff!