With 22 Grammy wins, 140 million album/single sales and countless world tours, Kanye West is objectively one of the best musicians of all time. With a booming sneaker and apparel business, he is also one of the most successful and wealthy celebrities on the planet. And with two new massive business valuations, we have a new accolade for his resume: Kanye West is now officially the richest black person in US history.
Last April we learned for the first time that Kanye West was a billionaire after new details about the impressive success of his Yeezy brand were made public. Actually, not just a billionaire, but a multi-billionaire. At that point we estimated that Kanye West's net worth was $3.2 billion.
With some new information that was revealed today, we are now updating our estimate of Kanye's personal fortune.
According to new valuations prepared by investment bank UBS, Kanye's sneaker/apparel partnership with Adidas is worth between $3.2 billion and $4.7 billion. Kanye owns 100% of the Yeezy brand, so those valuations go straight to his bottom line. Furthermore, according to UBS, his partnership with The Gap is worth $1 billion.
With these new valuations, we are prepared to announce the following:
The Richest Black Person In US History
At $6.6 billion, Kanye West is now the richest Black person in American history.
He leapfrogs from fourth place to first place, surpassing Oprah Winfrey's $3.5 billion net worth, David Steward's $3.9 billion net worth and Robert F. Smith's $6.5 billion. Michael Jordan is now the fifth-richest Black person in the US, with a net worth of $2.2 billion.
By our count, Kanye West is the third richest celebrity in the world, behind only Steven Spielberg ($7 billion) and George Lucas ($10 billion).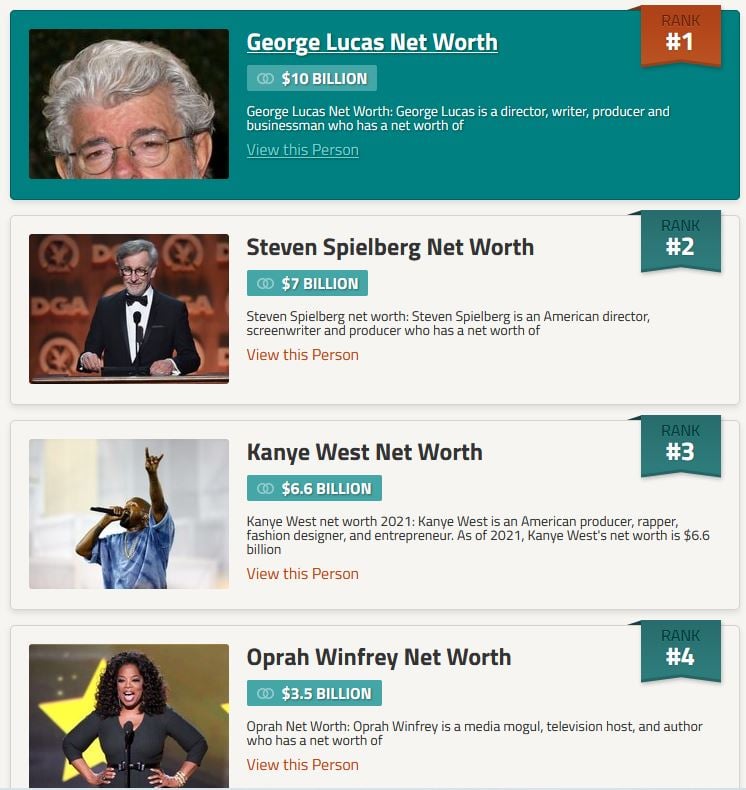 How Is Kanye So Rich?
Here's the main thing people don't understand – Imagine if Michael Jordan actually OWNED the Jordan brand and simply had a distribution partnership with Nike. That's what Kanye has with Yeezy and Adidas. If Nike sold the Jordan brand, Michael would continue to earn royalties from the new owner, but he wouldn't make anything from the sale – though obviously the acquirer would be wise to make sure Michael was VERY happy with the transaction.
Kanye owns 100% of Yeezy.
In 2020 he extended his partnership with Adidas for another 10 years, but he still maintains 100% creative and equity control.
If the brand continues at its current pace, when that 10-year deal is up, Kanye could be left owning one of the most valuable apparel brands in the world, as a free agent. As a solo operator.
There's nothing stopping Kanye from spending the next decade ramping up his own production facilities. If only he owned massive amounts of land somewhere in the US where it would be dirt cheap to build a bunch of shoe factories… Somewhere business friendly… Perhaps even a state that has no state income tax and one of the lowest sales taxes in the US….hmmm… What state has all of that… Oh right, WYOMING.
[FYI to those who were not aware, Kanye owns around 8,000 acres of undeveloped land in Wyoming, including a $2 million commercial warehouse facility.]
Here are Yeezy's actual revenues from 2017 to 2020:
2017 = $300 million
2018 = $864 million
2019 = $1.5 billion
2020 = $1.7 billion
Note that even during a global pandemic, Yeezy revenue managed to increase 13%, 2019 vs. 2020.
According to the UBS, Kanye personally NETTED $191 million in royalties from his 2020 operations.
The same UBS document shows that outside of his Adidas and Gap partnerships, Kanye has around $1.7 billion in other assets, including around $100 million in real estate, a music catalog valued at $110 million and a significant equity stake in his soon-to-be ex-wife Kim Kardashian's underwear/shapewear business, Skims.
According to the documents released last year, Kanye only has around $100 million in debt ("only" because it's a relatively low amount of debt for someone with his assets).
And if you're wondering whether Kim will be potentially taking a huge chunk of Yeezy in their divorce proceedings, we've been told that outside of his investment in Skims, Kanye and Kim's finances were strictly separate during their marriage and that they have a rock-solid prenup.
Congrats to Kanye West! Keep up the impressive work! Let me know if you ever want to add a celebrity finance website to your growing portfolio of business assets 🙂