Whelp. This is awkward. Facebook is in the middle of a monumental PR crisis/nightmare that is spiraling out of control. Lawmakers around the globe are calling for government regulation and demanding that CEO Mark Zuckerberg appear before them to explain his company's actions. Facebook users are furious and threatening to quit the social network en masse. With this avalanche of bad news, you would think Facebook could at least count on a guy who made an incredible fortune from the company to have their back, right? Or at the very least keep quiet. Nope. A guy who is worth $5.5 BILLION directly because of Facebook, is actually now leading the charge in the #deletefacebook movement.
Brian Acton is the co-founder of messaging service Whatsapp. Way before Whatsapp, his first job out of school was at Apple until he was hired as the 44th employee at search engine Yahoo. As such, an early Yahoo employee, Acton made a fortune in the run-up of the original dotcom bubble. Acton's shares swelled in value as Yahoo's stock reached an all time high of $118.75 per share on January 3, 2000. Like everyone else in the world at that time, Brian thought the good times would never end and proceeded to invest millions into fresh new startups. Unfortunately, as we all know now, that bubble was ready for a massive explosion. Over the next year and a half, hundreds of formerly hot tech companies disappeared off the face of the earth. Yahoo's stock price dropped 93%, and with it Acton's fortune was entirely wiped out.
On the bright side, today Acton can credit Yahoo for introducing him to Jan Koum. The duo quickly bonded over sports like ultimate frisbee and skiing. In 2007, they quit Yahoo and took a year off to travel South America together. Upon their return, both Acton and Koum tried unsuccessfully to get a job at pre-IPO Facebook. Acton, whose savings was nearly tapped, was more pressed to find a job whereas Koum had around $400,000 to keep him fun-employed for a while. After being rejected by Facebook, Acton proceeded to apply for jobs at every hot tech firm in the Bay Area. He was rejected by all of them
It turns out, getting rejected by every tech firm was incredibly lucky for Acton. He and Koum used their free time and energy to launch a messaging service in 2009. They named their service "WhatsApp."
Brian owned 20% of Whatsapp when it sold to Facebook for $19 billion in cash and stock in 2014. At the time of the sale four years ago, he was left with a net worth of $3.5 billion. Today, thanks to a sharp increase in Facebook's share price, Acton is worth $5.5 billion. It is believed that Acton had cashed out a majority of his shares of Facebook well before this crisis hit.
So, one would think that a guy who has made $5.5 billion off Facebook would have their back, right? Wrong. Acton is fed up with Facebook and went so far as to Tweet the following last night to his 30,000 followers:
"It is time. #deletefacebook"
As of this writing, that tweet has been retweeted 8,000 times and liked 16,000 times. A twitter user quickly pointed out that Acton had not actually deleted his own Facebook account at the time he sent the message, but a few minutes later the account was in fact removed.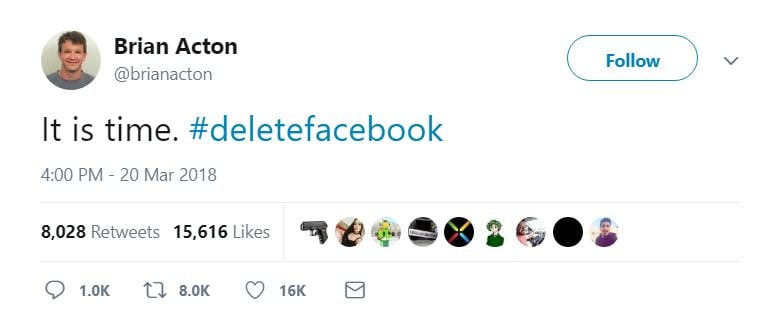 We are three days into the Facebook/Cambridge Analtyica disaster. For those who have no idea what is going on, Cambridge Analytica is a data firm based in the UK that download/stole/acquired the full user profiles of 50 million Facebook users. CA was able to get the data thanks to an app called thisismydigitallife which was downloaded by 270,000 people. How do you go from 270,000 user profiles to 50 million? Turns out, back in 2015 Facebook actually allowed all app developers to access not only the data of people who downloaded an app, but also the data of everyone the downloader was connected to on Facebook. Gross.
CA reportedly was able to build deep psychological profiles on at least 30 million of the 50 million accounts they extrapolated. To the point where they know someone's age, sex, location… they had their photos and knew everything that person ever liked on Facebook. The company then used that data to target the users with ads, memes and content that manipulated them towards a particular feeling or opinion. CA was reportedly paid to help the BREXIT campaign and Donald Trump's Presidential campaign.
Putting politics aside, it's really awful that Facebook allowed this to happen in the first place and then apparently did NOTHING to make sure the data was deleted after the fact. Facebook knew back in 2015 that 50 million profiles were stolen and the only effort they apparently made to make sure the data was deleted was to send CA a form email with a checkbox to tick ensuring they deleted everything (they didn't).
Furthermore, this Cambridge Analytica example is just the only example we know about today. Tens of thousands of Facebook apps were created prior to 2015 (when Facebook changed their data policies). Obama's 2012 campaign reportedly had access to a trove of very personal Facebook user data.
The fallout of the scandal has been brutal for Facebook. Over $50 billion in market cap was wiped out in 48 hours. Mark Zuckerberg's net worth dropped $9 billion.
Perhaps most astonishing of all, neither Mark Zuckerberg, nor COO Sheryl Sandberg have made a peep since the scandal broke. Considering the fact that they control the world's largest communication platform, they'd maybe communicate a little bit with their users/shareholders. Maybe go live and say something Mark?