He did it. Elon Musk is the richest person in the world. At the start of the day, it looked like Elon and Jeff Bezos would claw back and forth for the title of richest person in the world. In the end, Elon extended and solidified his lead. As I type this article, Thursday evening after the markets have closed, Elon Musk's net worth is $195 billion. That gives him a $11 billion lead over Jeff Bezos' net worth of $185 billion. FYI, Elon started the week at $170 billion and at that point he was $20 billion shy of Jeff Bezos' $190 billion.
You may have noticed that earlier today we posted an article that said Elon was "briefly" the richest person in the world. That's because when the markets opened today Amazon very briefly dipped to $3,155 while Tesla popped from $755 to $794. At that point, Elon was technically the richest person in the world. But soon Amazon bounced back and Tesla dipped back to the $780s, re-securing the crown for Jeff Bezos.
By our estimates, with his 11% stake in Amazon, as long as Amazon stock stays in the $3,200 range Elon would need Tesla to break $795 for him to become the richest person in the world. Amazon closed today at $3,162. Tesla closed today at $816… but is actually up to $830 in after hours trading.
The Richest Person in the World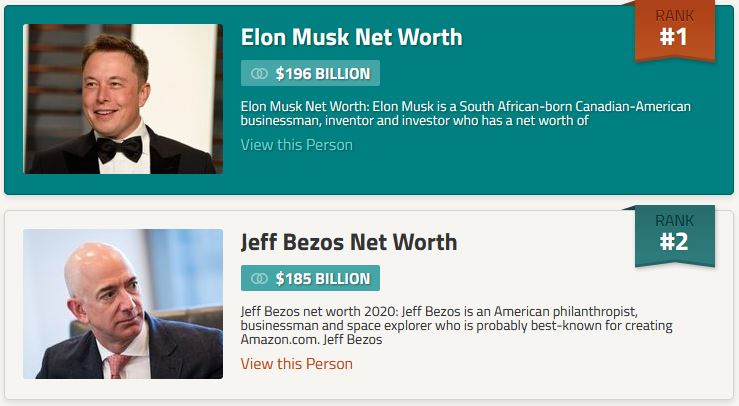 Here's how Elon reacted to the news over Twitter today: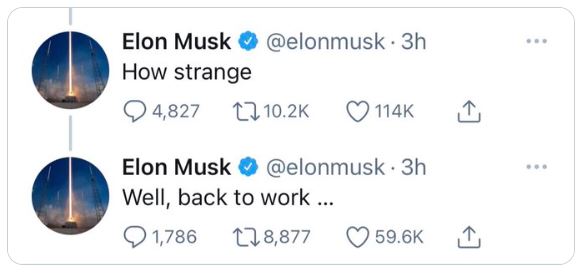 Elon Musk is the fifth person in the last 25 years to hold the top spot as richest person in the world. The other four are:
Bill Gates
Warren Buffett
Carlos Slim Helu
Jeff Bezos
Going back to 1995, Bill Gates held the top spot without interruption from 1995 through 2007. Warren Buffett wore the crown for 2008. Gates took it back for 2009 then Mexican tycoon Carlos Slim Helu held the top spot from 2010 through 2013. Bill Gates was the richest person from 2014 to July 2017 when he was first overtaken by Jeff Bezos. Bezos and Gates traded back and forth for a few months, then from October 2017 until today Jeff Bezos was king.
Today, Elon Musk wears the crown.
One Caveat…
When comparing the fortunes of Jeff Bezos and Elon Musk, it's probably wise to point out one little caveat: The Bezos divorce settlement.
Jeff Bezos currently owns around 11% of Amazon, roughly 55 million shares. Before he and MacKenzie divorced he owned 80 million shares of Amazon.
If Jeff still owned 80 million shares of Amazon today, he would be worth $256 billion today 🙂