Airbnb has revolutionized travel – we can all agree on that, right? Instead of absolutely needing to book a hotel room – sometimes multiple ones if you are traveling with your whole family or a group of friends – travelers can book a whole house, condo, or just a room in someone else's house. Or, if you fancy, you can book a teepee, tree house, yurt, or a castle to stay in.
The idea was born in 2007, when best friends Brian Chesky and Joe Gebbia realized that pretty much all of the hotels in San Francisco were sold out during the huge Industrial Designers Society of America conference. They came up with the idea of turning their apartment into a bed and breakfast for people attending the conference. They didn't have extra beds or bedrooms, but they did have three air mattresses. They inflated them and called themselves Airbed and Breakfast. Three people stayed with Chesky and Gebbia and they charged them $80 a night.
Today, hundreds of thousands of people around the world stay in Airbnb rooms each night. Cities like Los Angeles, New York City, and Paris offer tens of thousands of options for rooms.
Obviously, Chesky and Gebbia had a good idea, but where did it come from? How did they go from two tech dudes living in an overpriced apartment in San Francisco to billionaire founders of one of the hottest startups in history?
At a recent TED conference in Vancouver, Airbnb's co-founder Joe Gebbia told the audience that the idea came from an email his sent by Chesky to Gebbia in 2007. He shared the email that launched the home sharing empire: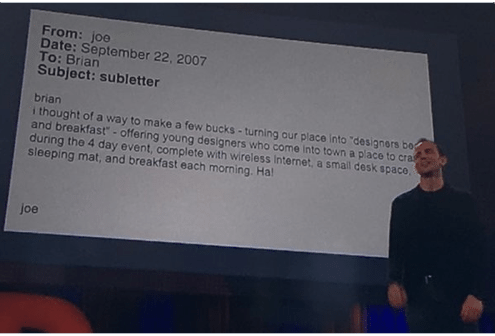 "brian, I thought of a way to make a few bucks — turning our place into "designers bed and breakfast" – offering young designers who come into town a place to crash during the 4 day event, complete with wireless internet, a small desk space, sleeping mat, and breakfast each morning. Ha!"
That off the cuff email launched a revolution and turned Gebbia and Chesky into billionaires.