Hottest Article of the Day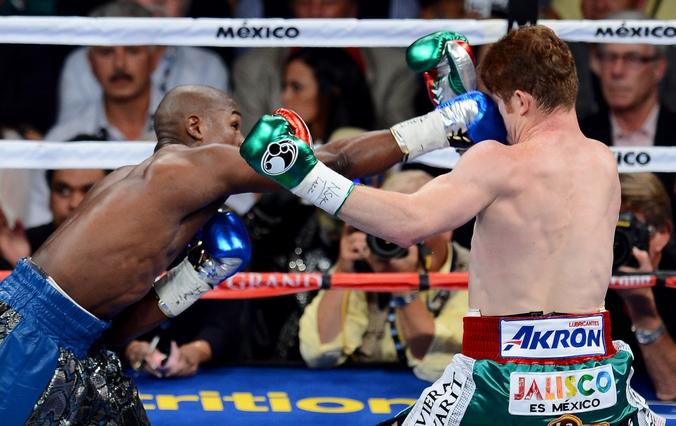 Floyd Mayweather Had A Hilarious And Brutal Reaction To Canelo Alvarez's $365 Million Contract
Just because Floyd Mayweather is "retired" from boxing with a net worth of $560 million, doesn't mean he's retired from the smack-talking business.
Today's Celebrity Net Worth Articles
October 19, 2018

A decade ago, Jessica Simpson launched a simple shoe line. Today she runs a fashion empire that sells more than $1 billion worth of product annually…

October 19, 2018

It happens to the best of us. One day you're gainfully employed, showing up every day and doing your job, and the next day, you're collecting unemployment. It isn't the end of the world as these 10 millionaires and billionaires prove.

October 19, 2018

50 Cent recently floated an offer to get Khabib to move from UFC over to his own Bellator MMA organization for $2 million, an offer that his manager said in a recent interview is "garbage."

October 19, 2018

Joakim Noah and the New York Knicks have finally parted ways, but not before Noah got a ton of money from the team.

October 18, 2018

Playa Vista Isle was finally completed just this year, and its 60,000 square feet has room for 11 bedrooms, 22 bathrooms, and a 20-car garage.

October 18, 2018

Witzøe officially came into his wealth in 2013, when his father gifted him nearly half of the shares in his massively successful salmon company, SalMar ASA.

October 18, 2018

Richard Branson has made it, by all conceivable measurements. His Virgin Group brings in more than $21 billion a year in global revenue. However, it turns out that Branson is not all that comfortable with lavish displays of wealth—and largely tries to avoid them.

October 17, 2018

Step aside A-Rod, Messi, Ronaldo LeBron, Kobe. Mexican boxer Saul "Canelo" Alvarez just signed the largest contract in sports history.

October 17, 2018

Paul Allen co-founded Microsoft with Bill Gates in 1975.Fast forward to today and Paul Allen's net worth has skyrocketed to $20 billion. He lost his battle with non-Hodgkin's lymphoma this week. Allen was a lifelong bachelor with no children. What will happen to his billions?

October 17, 2018

Allen Iverson last played in the NBA in 2010. But he's still making nearly a million dollars a year thanks to a lifetime deal with Reebok.

October 17, 2018

Lynsi Snyder inherited the In-N-Out burger empire when she turned 35. She was recently found to have a net worth of $3 billion, making her the youngest female billionaire in the U.S.

October 17, 2018

Gronk has some financial advice for any other young pro athletes out there: "I'd just say keep it simple. Keep it easy, and I'd say keep it simple."

October 17, 2018

Tanzanian billionaire Mohammed Dewji was entering the gym of a luxury hotel in Dar Es Salaam for his morning workout on Thursday, October 11th when he was kidnapped by masked men toting guns.

October 16, 2018

It's been a hot moment since Jack Ma was the richest man in China, but he's back on top again after a new round of investment in his Ant Financial put it at a $150 billion valuation.

October 16, 2018

Gross isn't pocketing all the money he's getting from his world famous stamp collection, nor is he just turning around and using it to buy more stamps.

October 16, 2018

Russian oligarch Oleg Deripaska's $42.5 million mansion on the Upper East Side of NYC has been seized by the U.S. government. The 50-year-old is currently under investigation for his links to bribery, money laundering, racketeering, and murder.

October 16, 2018

The program that billionaire Yusaku Maezawa refers to is a four- or even three-day workweek, each one of those days lasting no longer than six hours apiece.

October 15, 2018

Missing (and presumed murdered) journalist Jamal Khashoggi comes from a very interesting family. His uncle Adnan is someone we've written about before on CNW because he was a billionaire arms dealer. Adnan has a funny connection to Donald Trump.

October 15, 2018

Microsoft co-founder Paul Allen has died at the age of 65. Here's a look back at his fascinating and impressive life.

October 15, 2018

Paul Allen is the epitome of why you should be nice to everyone you meet in life. You never know who might put $20 billion and a couple of pro sports teams in your pocket.
View More Articles